I was looking for a way to spice things up in the bedroom when I walked into that sex shop.
But I never expected to find what I did.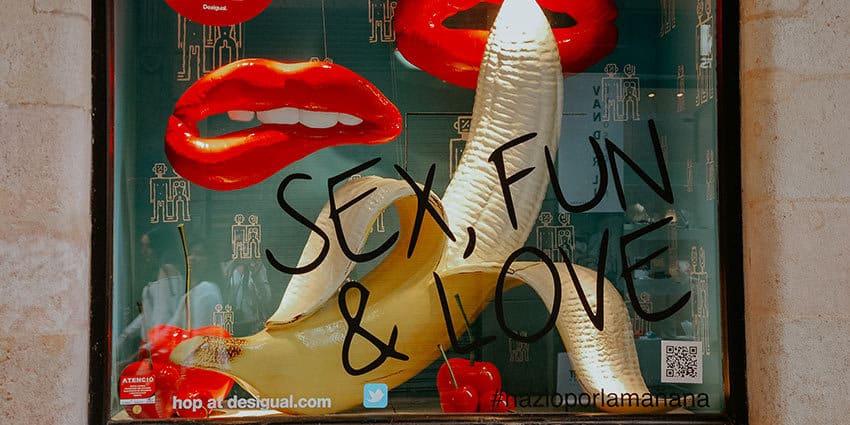 Her plush rosy lips curled into a smile, long blond hair falling down her arched back as she turned her head to me and asked, "How about this one?"
I blinked a few times, swallowing hard and trying to ignore my hard cock pressing into the pants. The shopping assistant was holding a small pink toy that looked like an alien to me. 
"What does it do?" I asked, clearing my throat. 
"It's a perfect toy for clitoral stimulation," she explained with a pleasant smile. "You see this small tiny hole right here?" She brushed a finger over the curving top where the whole was. "You press this to your wife's clitoris, turn it on, and voila. Sonic wave technology promises a mind-blowing orgasm within minutes."
I tipped my head to the side, inspecting the little alien resting in her palm. Would my wife like that? I wasn't sure…
"Would you like me to demonstrate how it works maybe?" she asked, her face still pleasant and warm, but I didn't miss the way her eyelids hooded, eyeing me. 
"Is that even a possibility?" 
She smiled once more. "Absolutely. Have a seat, and I'll be right there with you."
I walked over to the small lounge area in the middle of the shop, plopping on one of the armchairs, and laced my fingers together. My cock twitched with anticipation, it was as if I was in a damn movie, but my heart hammered in my chest with nervousness. 
A few moments later, the shopping assistant came back. I wasn't sure where she went, but I hoped it was to lock the door and turn off the cameras. 
I glanced around, searching for them, but I couldn't see any in the corners by the ceiling. Maybe, they didn't have any here. 
She planted her round little ass on the sofa in front of me, and we locked gazes. Her hands traveled to her thighs, lifting her leather skirt up all the way to her waist, revealing a daring hot pink thong that left not much for the imagination. 
I swallowed hard. 
Once the skirt was out of her way, she sprawled on the couch, leaning her back against the cushions, one leg bent over the sofa, giving me the best view of her beautiful pussy. Slowly, she ran her fingers up and down her inner thighs, and I couldn't look away. 
"You see, here is the button that turns the toy on and off," she said, holding the toy for me to see. I could barely focus with her legs spread out in front of me. "And here, you can also choose the intensity of vibrations."
All I could do was nod. She gave me a seductive smile, pressing the button and turning the toy on. It buzzed with a silent vibration. Slowly, she slipped one finger under her underwear, pushing it aside and giving me an obstructed view of her clitoris and the folds. 
She was pretty and pink, and I wanted to bury my face into her. But I made no moves, watching her.  
As she brought the tip of the toy to her clit, a gasp escaped her lips, and she arched her back, throwing her head back. 
Shit, was it that effective? 
Her hips bucked forward as the toy continued buzzing over her, and I had to adjust myself because my pants were suddenly too tight. She moaned louder, pressing the toy closer to her clit, and soon her hips were rolling, chasing after her pleasure. 
Fascinating. I have never found pleasure in watching someone pleasure themselves, but it was indeed a turn-on. 
I wet my lips, and then her gaze found mine. 
"You see, it's very effective," she said, breathless. 
I flashed her a half-grin. "I can see that. My wife enjoys her g-spot stimulation. Do you have anything for that?"
The shopping assistant removed the toy from herself, breathing heavily. Even from where I sat, I could already see the wetness gathered between her legs. 
She was close, oh so close. But I didn't let her finish. Not yet. 
After a moment of thinking, she rose to her feet. "I think I know a perfect option. I'll be right back."
She rounded the shelves and disappeared for a moment. When she came back, there was another toy in her hand, a small wand with a flattened nub at the end. 
"This bad boy is perfect for g-spot stimulation," she said, waving the toy in her hand.
"I would like to see in action if that's possible."
She grinned, eyeing me once more. "Of course."
She returned to her seat on the sofa, taking on the same position and spreading her legs for me wide. Once again, she pushed the hot pink thong aside and pressed the toy to her entrance. 
"It also has buttons here at the end that let you control the vibrations," she said before pushing the toy inside. "If your wife is not yet ready for penetration, she can always press it on her clit for some warm-up before diving in."
She slid the toy to her clit and back. 
"I see." Was all I could muster.
Clearly pleased with leaving me speechless, she slipped the toy inside, it gliding easily because of how wet she already was. Another moan escaped her, and a few moments later, she was back to arching her back and rolling her hips. 
Her gentle, soft moans and whimpers, the way her body moved so free and hungry for pleasure, were driving me mad. I wanted to shove my hand into my pants and free my cock, diving after my own pleasure after her. 
But I couldn't. There was some sort of satisfaction in watching her without touching myself. Not yet. 
Her breathing got more shallow, heavy and her head rolled on the back of the couch from one side to another. When she bit her lip, her muscles tensing, I knew she was very close to her orgasm. 
"And would it work with both of them at the same time?" I questioned, bringing her back to the present. 
Her eyes blinked slow and lazily, hands stilling. She licked her lips and then said. "Let's find out."
Without my further instructions, she found the first toy by her side on the couch and turned it on. Leaning back again, her eyes locked with mine, she brought the vibrating toy to her clit and gasped. "Oh, fuck."
Her hips were once more rolling, neck and face flushed. 
"Does that feel good?" 
She bit her lip, nodding frantically. Her movements have become fast and erratic, chasing pleasure. I smiled to myself, rubbing my chin. 
And then, her whole body tensed, legs trembling as she came with a loud moan. Once the wave of pleasure passed, she sighed heavily, opening her eyes and removing the toys away from her sensitive flesh. 
"I think you convinced me," I said, rising to my feet. "I'll take them both."