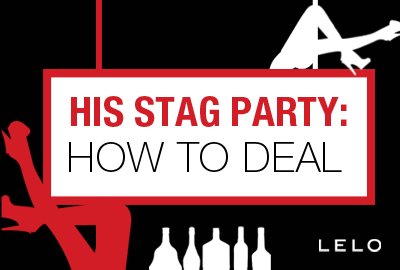 Equal parts bliss and stress, the weeks leading up to your wedding is often a journey through the gauntlet of human emotions.
Among guest list headaches, bridesmaid drama, dress altercations, and more, the last thing you want to have to think about is your man surrounded by babes, booze and boisterous buddies. However, the coming of his bachelor party doesn't need to leave you feeling down and out. Why? Because we've got your top tips for coping with your man's last hoorah.
Learn About Yourself
Every stressful situation or environment presents a chance for you to learn about yourself, and only through learning about yourself can you become a better you.
Keep in mind that your marriage will be equal parts love and trust, and if you can't handle your man out with his best buds for a few hours, it's more of a reflection on you than him.
Talk About It
Brooding and being distant as his bachelor party nears isn't going to solve anything. If your man's best man has invited some "guests" that leave you feeling unbearably uncomfortable, by all means speak your mind.
However, remember that a bachelor party is not only for him, but dozens of his friends eager for some male bonding. In the end, you'll most likely discover you're concerns were completely unfounded.
Today You, Tomorrow Me
And just why are you failing to acknowledge that you have an epic bachelorette party of your own coming up?! Snap out of it!
While it's unhealthy to think of the bachelor vs. bachelorette party as a tit-for-tat ordeal, knowing that you have the EXACT type of party in your own name being planned by your sassiest sisters should be a prescription full of chill pills in and of itself.
Just Relax
It's a bachelor party. Every man has one, and they're mere hours long. Stop playing scenarios out in your head, and worrying about what Derrick, his thrice-divorced law school roommate is trying to coax him into. This bachelor party most likely isn't your husband-to-be's first, and it certainly won't be his last. It's time to start rolling with the punches when such events come along.
Give Him Your Best
In a committed relationship, happiness is something that is shared, and the healthiest couples appreciate that their lover has a life of their own. Take pride in the fact that your man has so many friends looking forward to reminiscing and spending quality time with him.
Chances are he's really looking forward to being the star of his guy's night out—let him bask in it.
There's few times in life more precious than the days and weeks leading up to your wedding day, and one of the most succulent fruits in the cornucopia of wedding anticipation is singledoms last hoorah. When his bachelor party approaches, do your best to practice trust, support, and pride; virtues that will come in handy long after his bachelor party is over and your life together has begun.