"I looked down at his penis, decided that he was big enough and then nodded to give my approval, before he started having sex with my partner for the night," says veteran swinger, Mike.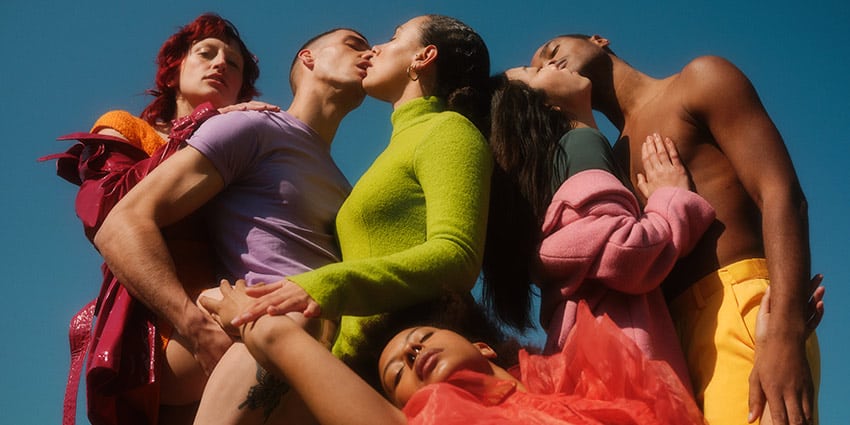 The 52-year-old ex-banker is well-versed in the UK's sex scene; from Le Boudoir, the member's club in London, to Vanilla Alternative, a motorway-hotel-turned-swingers-joint and festival venue, Mike has seen and done it all.
One of his favourite experiences is when a stranger asked him to pretend to be her husband and choose men for her to have sex with in the club, but only if he checked their penis size first.
"I love the freedom it brings to disengage from what society, family and religions tell you that you shouldn't do," Mike says when asked why he loves swinging and sex clubs.  
"It provides a space to explore your kinks, fantasies and fetishes without judgment from others." 
"There will nearly always be someone who is into the same thing as you at an event and making the plunge to go along was one of the best things I ever did."
Having entered the mainstream in the last decade, with companies such as Torture Garden and Killing Kittens bringing adult parties into the fore, these events allow people to test their sexual boundaries and expand their horizons in a safe, consensual space.
Let's make one thing clear before we proceed, however: swinging is not just for couples. 
For the purpose of this guide, the phrase encompasses sexual adventure by both single people and those in relationships where a larger group is involved, whether at a private soirée or a club.
Now, on to the fun stuff.
The first thing to do before you let go of your inhibitions is to choose what type of event best fits your needs and there's a veritable smorgasbord of carnal activities to try.
The aforementioned Killing Kittens, for instance, which was founded by Emma Sayle in 2005, hosts premium events for couples (straight or bisexual female pairs) and single women, as well as women-only events, including one that is taking place in London this month.
In recent years, the company has added virtual events to its repertoire, held with members from all over the globe including Europe, the US and Australia, which is a great option for newbies.
"[When I first started] people couldn't believe that I was taking sex, especially poly event sex into the mainstream, and putting my name to it," Emma tells us. 
"Fast-forward 16 years and the whole world has turned upside down."
"The internet has of course had a huge impact on all areas of our lives and that includes how, when and who we have sex with. Terms like poly, threesomes and unicorns all are now widely recognised even if you aren't into a specific scene." 
"Sex has opened up and with that inclusivity, body positivity and the broadening of our understanding of our sexuality – be that straight, gay, bi, queer, BDSM, sub/dom, it really is out there for everyone."
With over 15 years of experience in the industry, Emma explains that the most important element to attending a sex event is making sure you are going along for the right reasons and if you are part of a couple, ensure that you've talked about what is acceptable and what isn't.
"You need to set rules and boundaries," she says. "Both parties must be into the idea – if one person is pushing their partner into it, then it will never work."
"Understand from the beginning what kind of poly relationship you are having; is it only sex or oral sex or sexting, is it just casual one-off encounters or are you up for having a third girlfriend/boyfiend as part of your life." 
"You need to go into a poly set-up with a strong and solid partnership to begin with, as a third person will only complicate matters if you are not on the same page as each other."
Emma's comments bring to mind a recent scene in Netflix's hit series Sex/Life, where a bored housewife, Billie, who used to have wild sex with her ex tries to spice up her existing sex life with her husband, Cooper. One night, their friends invite them along to a house party, which actually turns out to be a swingers event in a luxurious mansion.
The pair decide to join in but because they haven't discussed their boundaries, it all ends in tears as Cooper receives a blowjob from his best friend's wife, all while Billie watches on in horror.
Considering the other person's feelings is something that Jamie, 30, who is in an open relationship, always keeps in mind when "playing with others". 
He has had countless threesomes and says communication is the key to avoiding arguments or misunderstandings.
"I like having my partner there as we play with others," says Jason. "It gives me a sense of comfort and support. Plus I get to show off in front of them."
And it has allowed him to try new things with confidence.
"Being in a threesome with my partner has also meant I was more comfortable with the idea of trying anal beads with another person who wanted to have sex with us," he adds. 
"The result was me climaxing so hard that I cried… it was amazing."
"It's all about communication and consent is super important. Learning and feeling what others want from you and your partner can be really hot… as well as useful and healthy."
Mike, who has witnessed sex play gone awry among couples, agrees with the sentiment, adding: "I've seen couples get into a fight at a club when one partner was having sex with a woman from an earlier threesome."
"His partner found them when she was looking for him and went mental in the middle of a huge orgy." 
"He got up, tried to calm her down and pulled on his trousers."
In a similar vein, consent among all party-goers is non-negotiable, and many clubs, such as Le Boudoir, have rigorous screening processes, as well as hire security to oversee the events (for the most part they blend into the background and don't interfere unless required).
While guests are encouraged to get as kinky as they want and can have sex on every available surface, all sexual activities must be consensual.
Sex club etiquette is a real thing; it means respecting boundaries, asking for permission and also recognising that some people come to watch, not to partake – and that's absolutely fine.
"Yes, there is an etiquette to follow," says Mike. "Safe, sane and consensual are my lead words." 
"For instance, if you engage in activities that are more extreme that you haven't done before, do so with people who have experience – choking is a good example."
"Avoid any confusion by having a discussion before you play and stick to safe words and show respect until asked not to."
As for condoms, sex toys and cleaning materials (like if you'd like to wipe down that leather bed you just climaxed all over), many events provide these for guests, though you can also bring your own, as Mike prefers to do.
"I bring all my own lubes, condoms and toys in a man bag," he adds. "It means I don't have to rely on a club owner to take care of my sexual health and enjoyment. I bring what I like that way too."
"Some places have toys like electric wands wired into sockets with cleaning equipment nearby, that's always handy for bigger items."
Jason is also a big advocate for bringing condoms, as "you need so many more of them with group sex. The logistics are crazy as you need to switch out your condom between each partner."
Something that might surprise newbie swingers is that the experience could be completely different to what you imagine in your head, and going solo to an event can be daunting but also exhilarating. 
If you're single and scared of dipping your toe in the dirty sex party waters, bring a friend along, as this could help you avoid feeling left out once things really get going. 
"People assume that I want to watch girl on girl," Jason says, "but I've lost count of the amount of times I've been awkwardly sat there twiddling my thumbs while two girls make out for half an hour. "Maybe I'm just impatient."
"I've never felt embarrassed at a sex party but I've definitely had group sex where afterwards someone has messaged me saying they felt a bit left out."
Another way to avoid awkward scenarios is to do your research on the event in question and on the kind of play you might want to engage in. Try to let go of your preconceptions and treat it as an experiment, knowing that sometimes, you don't get the intended results.
"It's okay to talk about how things might not go well," says Kate Moyle, sex and relationships expert at LELO.
"Humans are emotional creatures, and however much we may hypothesise or fantasise about how something might go, the reality may not match up." 
"The gap between expectations and reality can be where people slip up and it's important to address how things might not go so perfectly, but that it's also not a bad thing." 
"These can also be treated as learning experiences for what you might want to try or not try again."
If a traditional sex club feels like too much to handle, there are alternatives, such as hosting a private adult party at home or going to an event that is more about the entertainment element, than the sex.
Before the pandemic, Kelly, 34, tried her very first adult event, attending a masquerade ball of the kinky kind held in Vauxhall, London. 
The venue had multiple rooms, including one main space with a live band but also smaller areas where guests could try activities such as learning how to 'spank' someone accurately with the help of an instructor, or observe naked models covered in glitter paint and a woman with a laser butt plug doing aerial aerobics.
"It was a great introduction into adult events," she says.
"I felt so at ease going because of the masquerade theme. I used my mask as a veil, I could be whoever I wanted to be at that party, which made me feel more comfortable."
"Now that I've done it, I'd love to go to something a bit spicier, I don't even need the mask this time."
There's also SNCTM, which claims to be the "world's most exclusive members-only club" and hosts events in Los Angeles, New York, Miami, Moscow and Kiev.
There are three categories; masquerade, diner and pool party, all of which are the epitome of luxury with a very exclusive guest list and specific rules. As an example, diner guests must wear a tuxedo (men) or evening wear/lingerie (women) and the soirée is limited to just seven couples.
Photos are strictly forbidden and consent is key, as members must "ask before they touch". Break the golden rule and you are banned for life (as well as instantly removed by security).
Speaking about how the swingers scene has changed over the last 10 to 20 years, Lynn from SNCTM says: "Sexuality has always been a large part of identity and more importantly self-expression since the beginning of human existence."
"In reality, modern day society stifles our sexual expression – may it be those who identify as gay, lesbian, curious or anything in between." 
"In that right, I don't believe anything has actually changed." 
"We, hypersexual creatures have been hiding beneath the island of normal society – whispers to our friends, private affairs or suffering by ourselves." 
"I believe only in the past decade has the re-emergence and celebration of sexuality arose again." 
"The concept of a luxury erotic event is only a product of the interest of human sexuality to have a place to explore in the most luxurious of ways."
As for the brand's events, these are always held in "the most opulent of properties" such as castles, estates or presidential homes, and the theme changes each month and for each city.
Becoming a member isn't easy though, with each application reviewed by the club's' Dominus Council.
Member's clubs are quite common in the industry, though not all are quite so strict on who is allowed through the doors. 
Le Boudoir, which claims to be the only permanent "adult play centre" in London, operates a similar model, turning away a staggering 25% of applicants.
It is housed in a former Victorian hospital with over 5,000 sq ft of space to explore, including a dungeon. While it is an upmarket venue, it is not quite as fancy as SNCTM – providing a more relaxed atmosphere, which is perfect for beginners.
"New members to Le Boudoir are often surprised by how chilled the evening is," says Wiktoria, membership manager at the club.
"It is a sexually-charged environment but nothing is pressurised."
"Couples and increasingly, single females, come to the club to have a sexual encounter because they know it is a safe space." 
"We do not admit anyone who is not pre-registered and we do decline a lot of applicants if they do not present themselves well."
"It's not elitist, it's about maintaining minimum standards in presentability and personal grooming."
"We got into the business almost out of frustration. We saw great clubs in Paris, Milan, Barcelona and the States, but London lacked a stylish venue. The suburban clubs didn't fill the void."
Wiktoria brings up a very common issue that many newbies might not be aware of; the split between men and women at adult parties. As a general rule, though this depends on the type of event you attend, it is common for there to be more women attending than men, but read the fine print before you go along.
"A common mistake is not to select your party properly," she says. "On Thursday evenings we host hotwife events, for ladies who want to engage with multiple guys. The male – female ratio is therefore higher."
"It can surprise a couple to come on a Thursday and find many guys here."
"Friday evenings, we also admit single males, but we cap it at 25, to ensure a good balance with couples and single ladies. On Saturdays, it is the preserve of couples and ladies only." 
"Another common mistake for men is a lack of dress code! Too many men think that no effort at all is sufficient effort. We will turn people away at the door if they are not dressed appropriately."
Equally, the scene can differ broadly depending on which city you're in.
"Manhattan works hard and plays hard – an erotic environment is not immune to that spirit," Lynn adds.
"As for Los Angeles, socialisation is more on the forefront for our audience."
"I first came across erotic events while aboard in Amsterdam, Berlin and other cities throughout Europe, as the culture outside of the States is a bit more sexually accepting."
Feeling nervous yet? Let's recap the main points:
Consent is key

If you're going with someone else, communicate your boundaries beforehand

Do your research before choosing an event/club

Bring condoms and/or sex toys, and follow the dress code

Keep an open mind
Don't forget, sex parties can also be very, very fun and sexually satisfying.
Sharing a particularly steamy experience, Mike tells us: "My most memorable night was from a weekend swinging festival where I met a woman and after hitting it off, we decided to have sex on stage next to the DJ booth."
"Did that for an hour with both of us moving in time with the beat and being egged on by the 300+ crowd and DJ."
Now if that doesn't intrigue you enough to join the fun…