Whether you're getting down with one person or several, there's a ton of fun to be had! And even though the notion of a gang bang can be kind of daunting or even foul to some, others find it extremely erotic. Whatever your pleasure, treasure! This is why we're adopting the attitude, the more the merrier.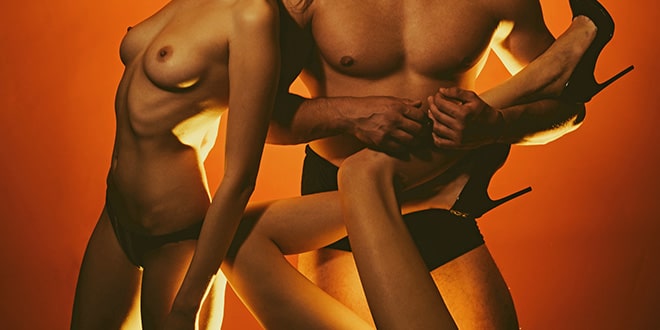 So, if you've ever wondered about gang bangs—what it entails, how to have one, and other saucy details, we've got you covered. It's a wild ride, not for everyone, but still an intriguing practice, that's for sure.
What is a Gang Bang?
A gang bang is usually more than three people who engage in different sexual activities with one specific person. This person is the focal point in the gang bang, meaning that the others involved will direct their sexual acts onto that person. 
A gang bang is usually one woman surrounded by several men, but this could be done in reverse (called a 'reverse gang bang') and entails one man and several women. 
Whichever kind of gang bang, the participants don't engage in sexual acts with each other, but only with the person of focus. The sequence of sexual acts differs, and some participants may simply stand back, watch, and masturbate whilst 'waiting their turn'.
What are some of the biggest gang bangs that have ever taken place? Well, there was a porn star, Annabel Chong, who engaged in 251 sex acts with men, making it the biggest gang bang at that time (1999). 
The gang bang was recorded as a porn film called, The World's Biggest Gang Bang, and was hosted by Ron Jeremy. 
Then, in 2003, the record was set at 757 men in less than 24 hours, and in 2004, porn star Lisa Sparxxx had sex with 919 men in less than 24 hours. 
Is it Normal to Fantasize About Gang Bangs?
The short answer? Yep, it's pretty normal. In a study by Justin J Lehmiller Ph.D., it was found that one of the seven most common sexual fantasies was multi-partner sex (threesomes, orgies, and gang bangs). 
For this particular fantasy, 95% of men and 87% of women agreed to have fantasized about it.
Also, it was found that 87% of men and 72% of women found the idea of sexual taboos appealing, which too could very well pertain to experiencing a gang bang.
Another study, done by the researchers at the University of Montreal in 2014, said that 28.3 percent of the women and 13.1 percent of the men had had one or more fantasies about having sex with more than one man at the same time. 24.7 percent of the women and 73.3 percent of the men fantasized about having sex with more than one woman at the same time.
And while this doesn't necessarily correlate to a gang bang (it could merely mean a threesome), it does give insight into the way in which these men and women feel about sex with multiple partners.
A possible reason for this fantasy is simply because of the taboo and/or shame factor alone. "Shame and sexiness tend to be strongly tied together," says Liz Powell, a psychotherapist.
Can a Women Who Fantasizes About Gang Bangs Be a Feminist?
Interestingly, the whole idea of a woman desiring or fantasizing about a gang bang could bring to light the notion of feminism. Some women may believe that they're a 'bad' feminist if they have fantasies about or engage in this kind of sexual act. 
Ingrid Mouth, a porn performer, gives her opinion on the matter by saying:
"Women like sex. Some women like sex with multiple partners. There's nothing wrong with sex and there's nothing wrong with having a fantasy. And if your gang bang fetish specifically involves degradation, well, that's a whole fetish unto itself that is not gender-specific, and which can be hot as fuck in a consensual setting."
Another way in which to look at it would be from the view of a writer, Amanda Kerri:
"It's not the people using the woman in the center of the gang bang. It's her body and sexuality that's the center of the lust, and she's in full control of it."
Kerri too states that a gang bang need not necessarily be done with one female and several cis males. It could include women or trans people wearing strap-ons, which is an interesting perspective when looking at feminism.
Is Group Sex and a Gang Bang the Same Thing?
Not necessarily, no. Group sex is an umbrella term that could be a threesome, foursome, an orgy, etc. Group sex is about all play partners giving and receiving pleasure. 
A gang bang, however, is a different kind of sexual act that involves four or more people, with one person being at the center of giving and receiving pleasure/sexual stimulation. As mentioned, the participants do not engage with one another equally but focus on one person.
What's the Difference Between an Orgy, a Swingers Party, and a Gang Bang?
An orgy involves five or more participants. During an orgy, all guests can engage with each other freely, with consent, in an open and judgment-free environment. 
A swinger party usually consists of couples who visit the event together and exchange partners. It does not always involve an orgy or group sex, but more so couples going into different rooms or spaces to be intimate, or having people watch.
Then, of course, a gang bang is one person being the focal point of sexual pleasure.
A Final Word: Group Sex Etiquette 
If you find yourself somewhat curious about participating in a kind of group sex (be it a threesome, foursome, orgy, or gang bang) or even hoping to visit a swinger party, here are a few things you may want to keep in mind…  
6 Tips on Group Sex Etiquette
Consent:

Consent

is the golden rule. You always have the option of not doing something you're uncomfortable with, and you should always ask permission before doing anything (even a hug or a

kiss

).

Safety:

It cannot hurt for you to

carry protection

. And while many other participants may have their own, having some on you is not only good manners but also ensures your safety. You can also bring other items that may ensure safety or pleasure, like lube or dental dams.

Presentation:

If you're going to be engaging with others, it's respectful to be clean and well-groomed. Take a shower beforehand, wear your best clothes and underwear, and maintain your

body hair

if you're inclined to do so.

Have an Open Mind:

These kinds of events are all about letting go of any preconceived notion, judgments, and insecurities. You are free to engage as much or as little as you please, but bringing in a judgemental attitude is never okay.

Don't Bring Uninvited Guests:

Just because an event of this nature means meeting and getting sexual with new or different people, it doesn't mean that uninvited guests can attend. Usually, these kinds of events have been planned well beforehand, even if it may not appear so.

No Photos or Videos:

Privacy and discretion are of utmost importance at any event of this nature. It's purely out of respect that no photos or videos are taken during group sex (or any sexual encounter, for that matter) unless consent is given by all parties. A simple photograph or video can ruin the livelihood of some, so respecting the privacy of the attendees is very important.
Last but not the least, have fun. Engaging in any kind of new sexual experience can be a super thrilling and empowering act. It's about letting go of self-imposed limitations, shame, and taboos, and simply living life to the fullest. Be safe, be respectful, and enjoy!