Your Boyfriend Found Your Vibrator – Now What?
So that fateful day has arrived. Your boyfriend, through either verbal or physical snooping, has discovered the existence of your vibrator (dun dun dun), leaving you with one question: what now?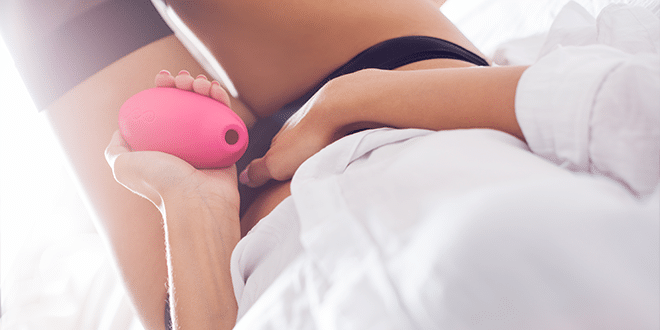 Having talked to loads of fans, friends and fellow fornicators, we've realized that your boyfriend's reaction will likely fall into one of four categories. To keep you prepared, we've analyzed each emotional reaction to provide you with an analysis of your boyfriend and the best way to handle his respective reaction.
And as an added bonus, we'll divulged which vibe best completes your love triangle.
BOYFRIEND REACTION 1: SUPPORTIVE
What it says about him: Your boyfriend is cool and independent and realizes that, while you're both bound in a relationship, you can comfortably live separate lives without constant scrutiny of one another. Understanding and secure, he recognizes that you are a big girl, capable of making your own decisions—even if they all don't involve him.
What you should do: Introduce him to us! We like him already! Not all girls are as lucky as you, so you should take this opportunity to tell him that you appreciate his openness and reward him accordingly (wink wink).
Recommendation: MIA 2 Lipstick Vibrator
BOYFRIEND REACTION 2: EXCITEMENT
What it says about him: Your boyfriend is energetic, secure, and adventurous. He's open to trying new things, like Kama Sutra positions, playing sex* games with ice or experimenting with your vibrator. While his willingness to participate might get overbearing at times, his heart and energy is in the right place, and he should be thanked for that. (Bravo boyfriend!)
What you should do: Share the good vibrations with him! A smart gal like you knows that a pleasure shared is a pleasure doubled.
Recommendation: TIANI 3 Couples Toy
BOYFRIEND REACTION 3: INTIMIDATION
What it says about him: Your boyfriend, while undoubtedly a nice guy, is dealing with a little insecurity and some slight confusion—neither of which makes him abnormal. If he is less sexually experienced than you or your vibrator is bigger and longer-lasting than him, he might feel inadequate and obsolete. He needs your encouragement!
What you should do: Assure him that no vibrator is a substitute for his real deal. Bring up the point that you masturbate when he's not around, just like he does when you're not around. He'll have a hard time denying the presence of a double standard. For bonus points, toss in the fun fact that 50% of people have used or use a vibrator.
Recommendation: LYLA 2 bullet vibe – it's a perfect low-pressure way to add all-over pleasure for both partners!
BOYFRIEND REACTION 4: JEALOUSY/ANGER
What it says about him: Your boyfriend sounds rather insecure. He's a big boy, and masking self-esteem issues with temper tantrum simply isn't cool. As much as we love our vibrators, they are inanimate objects and him to go around gettin' all angry at some awesomely-shaped silicone speaks volumes about his confidence (or lack thereof). We're not suggesting that underlying self-esteem issues aren't something that can't be worked through as a couple – they absolutely can – but they're also not cause for you to stop masturbating over.
What you should do: Tell him to chill. This one can be tricky, but just be honest! Solo pleasure isn't something that just stops when you couple up, and if the orgasms you get from masturbating were THAT unbeatable, then you wouldn't be in a relationship in the first place. Consider bringing mutual masturbation (or a cock ring) into coupled play to show him that hey, vibrators aren't a big deal at all.
If he is still angry about you having one? Dump that MF.
Recommendation: TOR 2 Cockring (or a new boyfriend).
*In this article, we are using the words sex and intercourse as synonymous, as is done in popular culture in general. However, we'd also like to acknowledge that most women don't orgasm from intercourse alone and need some type of clitoral stimulation, either alone or coupled with penetration.
---
For Lea, what once was "a European summer abroad" turned into traveling the world and studying sexual cultural differences for the past 6 years. She has a PhD in Gender & Sexuality and has a theory that dating guys in their twenties is an unpaid internship. She's currently writing from a cafe in New Zealand.