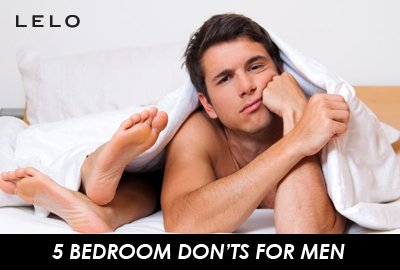 Great lovers aren't born; they're made – at least that's what we believe here at LELO.
And what with the mixed messages regarding sex and sensuality that we're all exposed to, it's now harder than ever to know what's expected and accepted in today's bedrooms.
So how do we all collectively become the best love-makers we can? An open, honest and informative dialogue between all those involved is a good place to start.
Just like the bedroom blunders women are capable of, a man's mistakes in the romance department are likewise rectified with communication, as well as some of the helpful ideas we offer here; listen up gents, this one is for you.
DON'T bolt below the belt
Not every lovemaking session is going to be so packed with passion that you can forego foreplay, although when those instances occur, they're always incredible.
So rather than pouncing straight for her panties, take the time to build the anticipation with some gentle touches and deep kisses, all while slowly working your way 'down there' – only to start all over again and drive her wild.
And before you finish your foreplay, don't always assume that every woman likes to be touched in the same way – there are women who climax from clitoral stimulation, usually before penetration even occurs, while some experience orgasm from direct g-spot massage during intercourse. This is knowledge that you're going to have to glean yourself however, be it by trial and error or by asking her directly (which is always a good idea).
DON'T believe foreplay begins and ends in bed
Foreplay is forever, or at least it takes the form of gestures – some romantic, some merely courteous – we make even outside the bedroom. Being attentive to your partner's needs only strengthens the bonds between you both, for a stronger relationship which is an aphrodisiac in itself.
Allowing your woman space when she needs it, intimacy when she wants it, and support when she least expects it is just what she needs as a reminder that you're the one for her.
DON'T assume you've got unmatched sex drives
Many men posit that women have a lower sex drive than men, but that's actually not true – speaking directly to many women, you'll discover that they want and need sex to the same degree, even when you account for individual differences between the genders.
So in the event that you're being turned down by your partner, or she's just not taking as much of an interest, perhaps turn the focus inward and consider what you could do to better facilitate her needs before being frustrated that yours are not being met.
DON'T be disrespectful
We've all seen some moves and maneuvers that are totally acceptable in porn, but a majority of these practices are meant to stay on video and performed only by professionals. Those actors and actresses are privy to a set of standards and practices, meaning that you and your partner should be too.
When it comes to positions, subjects for talking dirty, sexual role-playing and some, shall we say – methods of finishing – always, always, always have her wholehearted consent rather than just giving it a try in the heat of the moment.
DON'T stop learning
Even if the dynamic of your relationship has you initiating your sexual sessions most of the time, that's no reason to never relinquish control. The best sex is the sex 2 people enjoy, and letting her take the reins of your romance will do wonders when it comes to learning what your partner likes.
But you know what the best, most effective way there is to learn your partner's preferences and how she takes her pleasure? Ask!
It's certainly not information that is inborn in all of us, and the more you learn, the closer you'll get to be not only a better lover but the best lover for your partner.