Vibrating massagers that are designed for dual pleasure, like BRUNO, are perfect for anyone looking to amp up the pleasure of their anal play. While prostate stimulation is its prime goal, it can be used by anyone who enjoys anal play and wants something more than their standard butt plug – just check out these user reviews!
LELO BRUNO Prostate Massager Review
"The pulse and varying vibration patterns were a delightful tease for him, whether simply enjoying them on their own or in combination with manual masturbation of his penis, oral sex or penetrative sex – although using it during penetrative piv sex with me proved to be very distracting!"
Read more of CARASTURA's review!
Review: LELO's BRUNO Prostate Massager
"For both my boyfriend and myself, BRUNO got straight to the prostate. He presses strongly against it without feeling like he's pressing into it, and his base can easily be held outwards to direct stronger pressure on the P-spot as you want it.
The button is well placed to reach when Bruno is inside and unlike most toys I've used, all of the vibration patterns have their merit. The first and last are my favourites: pattern one is the toy constantly on at full power and pattern six randomly sets different vibration speeds. This setting is very well done. For longer sessions, switching the toy to pattern six and lying back to enjoy the ride is a really great experience. Well done LELO!"
Read more of FIVEANDTWENTY's review!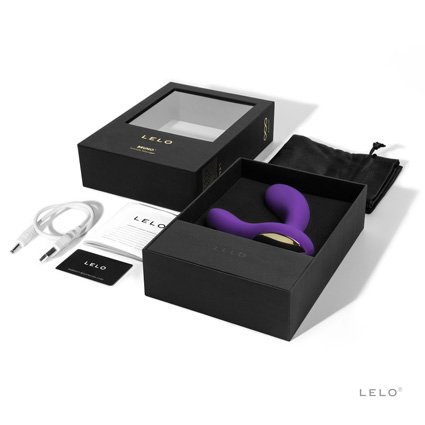 LELO BRUNO PROSTATE MASSAGER
"Secondly, the BRUNO is just ALL POWER. Unlike the HUGO, where you can control the intensity of patterns using the remote, you can't do that here – so basically, you get all of the patterns on maximum intensity. This is great if you want power, and need power from the get go.
So as a toy, BRUNO does feel really good, and it works effectively. So if you are looking to invest in a luxury toy, then you can't really go wrong. It's powerful, waterproof and at a size that almost anyone of any experience can safely and comfortably use the BRUNO."
Read more of THEBIGGAYREVIEW's review!
LELO BRUNO Review
"As always, LELO did an outstanding job in terms of BRUNO shape. It perfectly reaches every part it should, without causing any discomfort or any need to put yourself in a specific position.
For me personally, it lasts more than 2 hours, yet I recharge it after every couple of uses, just to be sure that LELO BRUNO doesn't die on me when I'm about to cum."
Read more of MALESEXTOYS' review!
Customer Reviews
Check out more Bazaarvoice authenticated LELO reviews, supported by anti-fraud technology and human analysis.
Look, no hands. ★★★★★
I bought this for my husband. he was skeptical at first and bit apprehensive. We took it slow, used plenty of lube took our time. Within a few minutes he was leaking copiously and within thirty minutes he released. His orgasm was prolonged, longer than a typical orgasm, and voluminous. He's a believer now.
Posted by: KellyLovall
Explosive Orgasms ★★★★★
Tried the Bruno out in bed with the girlfriend and had the best orgasm of my life. I defiantly can't imaging sex without it going forward.
Posted by: MarcF
So much pleasure ★★★★
Bought one for me but tried it on the wife. She enjoyed it so much I bought her her own. Curves just right for her and powerful. This toy isn't just for a man!
Posted by: Big O