Couples' massagers are great sex toys for a number of reasons: helping with erectile dysfunction, wider vaginas/smaller partners, and just spicing up solo or partnered play with some added sensations. 
I found two popular couples' massagers, the Lelo Tiani 3 and We-Vibe Sync, and tested them during masturbation and partnered sex.
Lelo Tiani 3 Couples' Massager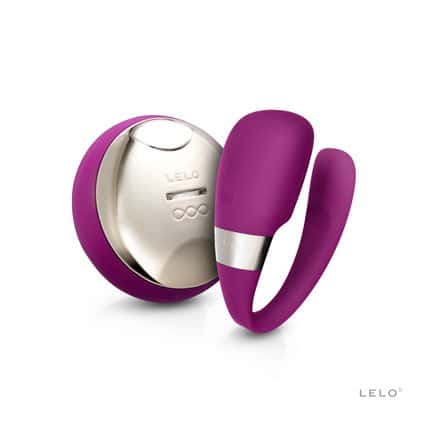 Full Price $169
★★★★★
Lelo's Tiani 3 comes in a matte black box with a satin storage bag. I prefer these satin baggies for keeping my toys separate and clean without compromising on space. Like all Lelo toys, this couples' massager felt luxurious which added to the overall experience.
Unlike the We-Vibe, the Tiani 3's external button is encased under the silicone so it seems like it's not there. The bulb, or external, part of this massager is also bigger and causes more direct stimulation if used in a sex position like missionary. Personally, I liked the feeling, but I enjoyed this toy most while lying on my stomach since it's my favorite anyway. The toy isn't prime for positions like doggy style because it leaves a lot of motion for it to pop out. For solo play, I really enjoyed using the hands-free remote because it allows you to take your pleasure essentially anywhere.
For lesbian couples I'd recommend this couples' massager because the remote also vibrates which means it can function as two toys. I'll admit there was a learning curve with the SenseMotion technology (tipping the remote increases and decreases the vibrations), but once we got the hang of it, it made the orgasms flow. My boyfriend was pleased with the vibration strength of this one when we tested it during partnered sex, so I'd imagine it would work nicely with some scissoring or grinding.
One pro tip if you want to harness the many pleasurable nerve endings around your bum is to turn the toy around so it vibrates on your anus. Since the remote vibrates too, you can use it on your clitoris and have triple stimulation.
Defining Features
Vibrates internally and externally

Remote-controlled

Controller doubles as toy
Pros
8 vibration patterns

Flexible

2-hour charge time

2-hour user time

Waterproof

Quiet
Cons
Not prime for all sex positions

Bigger bulb provides direct stimulation
We-Vibe Sync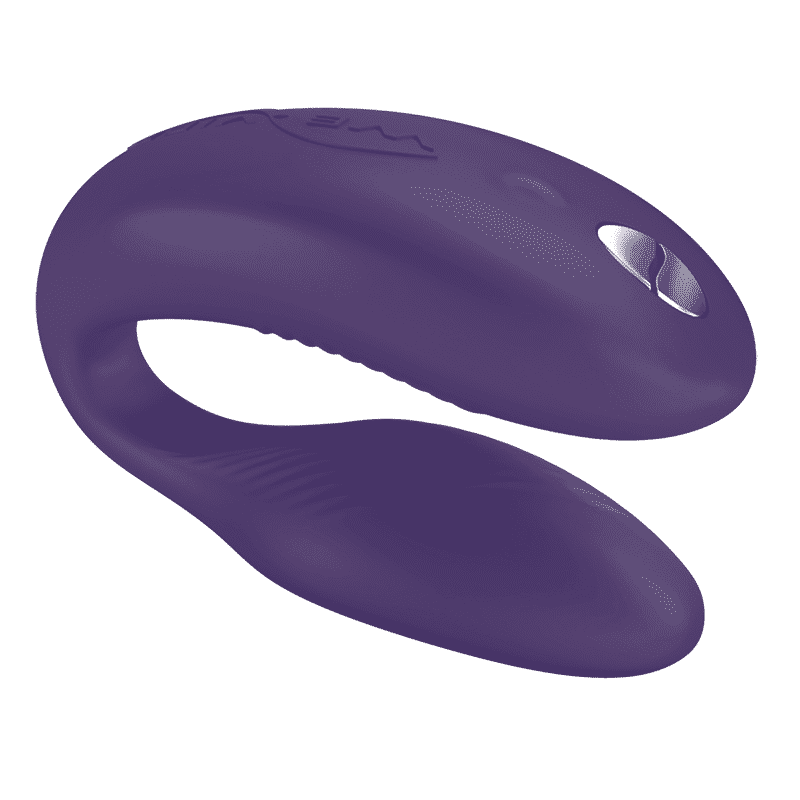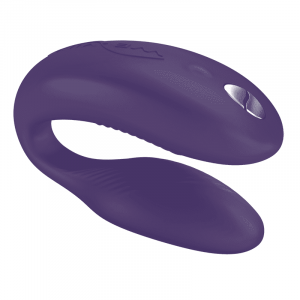 Full Price $199
★★★★☆
The We-Vibe Sync comes with a white plastic case that would fit in well next to cleaning appliances. Normally, I'd be the first to toss it since I'm all for breaking the stigma around having to hide our pleasure products, but I'll have to keep this one since it also doubles as the charger for the device and remote. It's bulky as opposed to a regular USB cord, but no deal-breaker.
The remote makes the toy hands-free, but I gave up using it after the second time it failed to connect. Luckily, the We-Vibe Sync can also be controlled via app which means it's a good toy for long-distance couples or exploring exhibitionism. The toy can also be paired with sound, so your partner can talk into their phone and control it. It sounds pretty cool and I'll definitely be trying it, but I don't think it's a feature that will be making me climax from vibrations (unless my man is watching his favorite sports team lose).
The app is well-designed and allows you to control the vibration of the clitoral and g-spot arms separately, although I've only tested the toy with its physical buttons so far. It also shows how much battery power is left in the device. One minor drawback for me is the button placement on the device. They end up sitting on top of the clitoris and compared to the Tiani 3 seem less hygienic for cleaning because they aren't as flesh with the toy. 
Compared to other We-Vibe products I've tested, this one is lower on the vibration intensities which is fine since I'll mostly be using it for solo play. The one time I tested it with my boyfriend he said he barely felt anything on his end, but he's always a trooper in helping me get better pleasure.
While researching the We-Vibe Sync I noticed other customers also reviewing the failed app connection, vibration weakness, faulty devices, and even causing user and partner physical pain. While I didn't experience them all personally, they are still worth noting.
Defining Features
Adjustable fit

Remote-controlled

App-controlled
Pros
10 vibration patterns

Flexible silicone

Waterproof 

Sleek design 

2-hour charge time

1.5-hour user time
Cons
Inconvenient button placement

Expensive 

Insertable arm doesn't vibrate
Overall Winner
Each toy has its defining features. If you're looking for something specific, Tiani 3 is better for lesbians due to stronger vibrations and a vibrating remote, whereas Sync is better for long distance couples because of its app connectivity.
Overall, I'd crown Tiani 3 the winner because it proved to be more hassle-free and, most importantly, provided some pretty amazing orgasms both with and without a partner. If you're looking for something reliable at a great value, try adding Tiani 3 to your routine.