While society dictates that we need to wear clothing when in public, there are a few tantalizing exceptions to that rule. 
And while it can be thrilling to buy a stylish, smart, or sexy outfit that looks absolutely fantastic on, sometimes all we need to do is wander around naked.
Don't fancy getting tan lines? Or hate the way clothes feel against your skin (on a hot summer's day)? 
Wherever you are, or if you're planning to travel, here are the top six nudist beach locations that not only mimic paradise, but also encourage you to let go and bathe, swim, and have fun in your birthday suit.
So, forget the confinements of your own home, it's time to go au natural!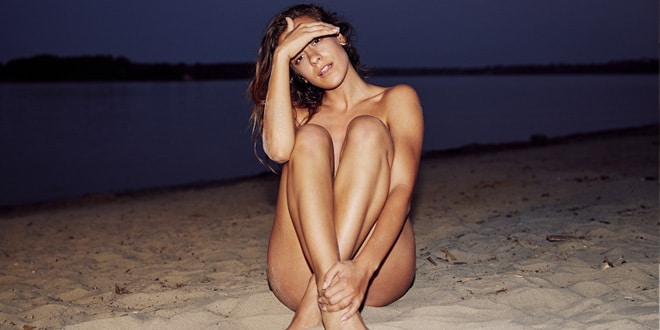 1. Patara Beach — Gelemiş, Turkey
Found in the south coast of Turkey, Gelemiş is a small village surrounded by hills and mountains. It's rife with history, and makes for a super fun tourist spot for adventurers and history buffs. It's also a location that offers nude bathing. 
At Patara Beach, 18 kilometers of golden sand and shallow water, you'll find a nifty place to enjoy that's nude-friendly. And while families sometimes gather here, many tourists have advised that a little stroll away from the crowds will land you in a more isolated space where being nude is totally acceptable.
Visit in summer when the weather is, on average, 27 degrees C (80.6 F), and you'll walk away with a smile on your face and an even tan!
2. Lecciona Beach — Tuscany, Italy
Technically, Lecciona Beach isn't an official nudist beach, but rumour has it that this stunning natural spot stretches out far and wide, and is usually quite empty. Because of this, being nude is considered acceptable here, and you'll find a mixture of clothed and unclothed beach goers. 
You can find this spot inside the Nature Park of Migliarino – Massaciuccoli – San Rossore, which means that you can only access this beach on foot. 
Additionally, this beach has is LGBTQ-friendly, and has made a name for itself as being a 'gay nudist beach'. 
3. Plakias Beach — Crete, Greece
Crete is considered one of the top travel destinations in Greece. It's got tons of things to do, and visiting Plakias Beach is a must for those who love the idea of lounging on beach chairs under umbrellas and staring out at the gorgeous views.
This beach is longer than one kilometer, with the majority of it being filled with those wearing swimsuits. There is a spot at the end of the umbrella line however that's perfect for those who want to get rid of their clothes. 
This spot has been said to be a popular spot for locals and tourists who have called it "one of, if not the best nudist beaches in Crete and other Greek islands".
Alternatively, if you fancy a smaller nudist beach, three-ish kilometers from Plakias Beach you'll find Micro Amoudi. This is a sheltered cove, small (50 meters) and intimate. It's predominantly nudist, great for swimming, but can get quite busy.
4. Praia das Adegas-Odeceixe — Algarve, Portugal
Praia das Adegas-Odeceixe is a one large beach that consists of two different areas, Adegas and Odeceixe. 
Praia de Odeceixe is the main beach, while Praia das Adegas is the nudist beach. Praia das Adegas, is one of three official nudist beach locations in the country. 
This nudist-friendly spot is not only a great place to strip yourself of your clothing, but also treats the eyes to beautiful views of the high cliffs, giving it a feeling of seclusion and privacy. 
To add to this, there are no commercial businesses or restaurants around the beach, making it rather unspoiled. 
This beach is also popular for surfers, due to its high tide. For that reason, be careful before deciding to take a dip, as the water can get quite rough.
5. Hedonism II Resort — Negril, Jamaica
Hedonism II Resort can be found on one of the most fantastic beaches in Jamaica, and is an all-inclusive adult resort for couples and single women that want to experience pure freedom. 
While this clothing-optional resort is not simply a pop-in day at the beach, it does offer a wide variety of sensual and erotic activities to do during your visit. 
You can enjoy world-class dining (clothing mandatory), stocked bars, luxury rooms, beach and pool access, spa treatments, and nightly entertainment while living out some of your fantasies. 
They even have a playroom called the "Romping Shop," that's surrounded by waterfalls, in order to feed your desires. 
Needless to say, Hedonism II Resort takes nudism to a whole new level.
6. Kandarola Beach — Frkanj, Island of Rab in Croatia
Known as the most popular nudist beach on the island of Rab, Kandarola Beach is just under two kilometers. 
It offers all the amenities one may need, like a small beach restaurant/bar, sun chairs, and umbrellas, while keeping in the aspect of nature with its rocky coves. 
Today, this clothing-optional beach has made a name for itself in the tourism sector with various hotels opening up to accommodate out-of-towners. 
Why do the tourists love it so much? Because the water at Kandarola Beach is crystal clear and easily accessible from the sand.
This beach in Croatia has also been dubbed a friendly place for all—one where visitors feel free and respected. Visitors can embrace their bodies without being looked at whilst in the midst of others of different ages, nationalities, races, and relationship statuses. 
Speaking of respect, here are a few nudist beach do's and don'ts for first-timers, or those who need a bit of a refresher… 
10 Nudist Beach Do's and Don'ts
1. Be 100 Percent Sure it is a Nudist Beach
Whether you're getting your information from websites, word-of-mouth, or other, make sure that the nudist beach you're planning to attend is actually a nudist beach. 
This is because there are many nudist locations around the world that claim nudity is acceptable, yet the beach itself isn't officially a nudist beach. 
Also, some countries don't allow nudist beaches, despite some locations deciding to self-proclaim that they are. Watch out for these, as you may find yourself in trouble. 
2. Eyes Off
A fairly obvious one, but while soaking up the sun sans clothing, it's polite and respectful to keep your eyes to yourself. Refrain from staring, gawking, taking photos or videos, or even glancing over at others who are also naked.
3. It's a Public Space
Sure, it can be oddly erotic to visit a nudist beach with a partner or someone exceedingly attractive. 
But remember that the beach is still a public space, and thus you might want to refrain from tomfoolery until you get back to your hotel room/home.
4. Sand… Sand, Everywhere
Even in a bathing suit, sand seems to find its way into all of the nooks and crannies. Now imagine being butt naked… sand could become an issue and cause discomfort. 
Try to take a dip in the sea or clean up at the public showers before you head home.
5. Safety
The rules at a nudist beach are similar to that of a clothed beach visit in the fact that you're going to be exposed to the sun. 
So be sure to bring sun cream along and to cover your entire body. Secondly, insect repellent is never a bad idea.
6. Comfort First
For the sake of comfort, you may want to bring a large towel with you to make sure that your entire body is covered from the sand.
Again, sand in unmentionable spaces… not fun!
7. Beach Hopping?
Bringing a bathing suit with you is never a bad idea, just in case you've heard of some other beautiful beaches nearby.
You may decide to pop over to non-nudist beaches for their bars or restaurants, and you'll obviously need an outfit.
8. Abide by the Law
Before you step foot off the nudist beach, you should always be clothed. 
It may be legal and perfectly fine to be without clothing on the sand or in the water, but in a car park or on the street, it's highly unlikely.
9. Plan Ahead
Just like any other beach visit, you may want to bring water, snacks, or other items with you in case there are no shops or restaurants nearby.
There's nothing worse than being dehydrated, hungry, or perhaps with a headache without water, food, medicine, or other supplies.
10. Diversity Is the Spice of Life
Just because it's a nudist beach doesn't mean it will be full of strangers with ripped bodies and tight abs. People will be all different shapes and sizes—and that's the beauty of it!
The 11th unofficial tip? Have fun! Let go of societal pressure, be free, smell the fresh sea air, get your toes wet, and smile in the sunshine!