For many, being naked is something strictly for the bedroom, or when they're alone in the shower. And sure, it's definitely not kosher to roam the streets sans clothing.
But when it comes to skinny dipping, different rules apply. And that's a good thing! Why? Well, not only is it a bit of fun, but there are also a load of cool benefits attached to wearing your birthday suit.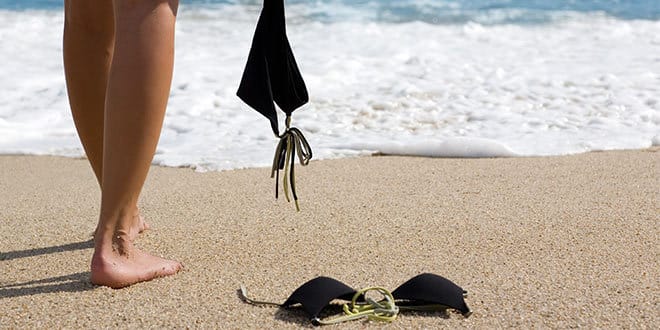 What is Skinny Dipping?
Skinny dipping is when you remove all of your clothes and enjoy the freedom of entering a body of water, such as a swimming pool or the ocean.
What skipping dipping is not, is the opportunity to gaze, gawk, or interact with others in a sexual manner (well, it could be an add-on whilst skinny dipping with a consensual partner, if that floats your boat).
In other words, skinny dipping is good, clean fun either solo or with others.
So, why should you try skinny dipping?
Being Naked Makes You Emotionally, Mentally, and Physically Healthier
It's good for the skin:

when you're naked, sweat and toxins are removed from the body, and it enhances blood circulation.

It's a good source of vitamin D:

Being in the sun is a better source of Vitamin D than taking supplements. This vitamin is essential for good immune system functioning. Choose to skinny dip for 10 – 15 minutes in the sunshine, and you're killing two birds with one stone.

It encourages body positivity:

Being naked means learning to be or proving that you're

comfortable in your own skin

. Additionally, seeing others naked in a respectful environment means appreciating different body types.

It burns fat:

When you're naked, the main supply of brown adipose tissue (the good fat) multiplies and kills off some of the white adipose tissue (the bad fat).

You'll feel more confident in clothes:

Once you really love and accept your body to be naked, you'll be able to understand your body's shape. You'll then be able to be more conscious when choosing outfits that accentuate your beautiful body.

You'll be vulnerable:

Being vulnerable is actually an important experience for humans, as it show courage to reveal something you feel is a flaw or fear. But once you begin to embrace vulnerability, you'll be able to form more intimate and long-lasting relationships with others.

Sex with the lights on:

Perhaps you've always been a little self-conscious of your body, prompting for the lights to be turned off during sex. By going naked and getting

comfortable with your body

, you can enjoy more visually stimulating sex with the lights on.

You'll get more intimate… with yourself:

Figuring out and loving every inch of your body means more confidence to explore yourself sexually, like

masturbation

.
Why Should You Go Skinny Dipping?
On top of all the reasons why being naked is good for you, skinny dipping is great for an additional few reasons:
It prompts spontaneity and adventure: Unless you've planned your skinny dipping experience, those spur-of-the-moment adventures are always the ones you'll remember the most.
It's a way to feel more connected to nature: Especially for women, there's something magical about being in the water at night with the peacefulness of the moon. It can even be healing for some.
It feels 'naughty': It's the social rules of etiquette (and the law) to wear clothes in public. So when you're defying the social norm, it feels naughty and rather taboo-ish. That, in itself, is a thrilling experience. It's almost the same as feeling a rush during having sex in public: will someone see you?
It's sexy: The water against your body feels sensual, free, sexy and sassy.
No tan lines: If you're planning to sport a new tan this summer sans tan lines, skinny dipping is the best way to get there.
No wet bathing suit sticking to you: Sopping wet clothing or suit is more of a drag than anything else. No suit means less wet clothes to worry about afterwards.
You dry quicker: After your fun, your body will dry a heck of a lot quicker than any piece of clothing or bathing suit.
You can swim easier: Without clothing to slow you down, you will be able to swim faster without feeling dragged.
7 Skinny Dipping No-No's
While it's been an exhilarating and informative ride talking about all the pros associated with skinny dipping, there are some things to remember and consider.
1. Don't Be Drunk
You may be thinking that the only time you'd ever even consider skinny dipping would be after a few too many glasses of wine with friends. But in actuality – it's more dangerous than it's worth.
By swimming drunk, especially in a public place such as a lake or ocean, you run the risk of falling or injuring yourself. It's easier to be pulled away with the current or to experience an accident on a rock after a few drinks.
2. Keep Your Clothes Nearby
Simply put, if you lose or have your clothes stolen whilst skinny dipping – you're screwed. Make sure to put them in a safe place that's nearby.
This is also important, as you may need to do a quick dash for some reason or another, so having them on-hand is just a smart move.
3. Be Wise When Choosing a Location
Research a few things beforehand: is it legal to go skinny dipping where you are? Are you sure you'll have enough privacy?
Or, if you're choosing a public place such as a nudist beach, make sure you know the rules that apply before letting yourself go.
4. Don't Get Handsy
As mentioned, skinny dipping isn't a sexual activity. Getting handsy with others who aren't interested is a big no – and could not only be treated as molestation, but ruins the entire clean fun vibe that the adventure should hold.
5. Don't Stare
Being naked with your friends or whomever you choose isn't an opportunity to gawk at their body. It's also not the time to compare yourself to others.
Skinny dipping is simply about living in the moment, feeling free and happy in a safe and non-judgemental space. Staring is a no-go.
6. Ladies, Don't Let Your Period Ruin Your Fun
Periods aren't an excuse to miss out on the fun. So if you're planning to enjoy this activity, simply make sure you're either wearing a tampon or a menstrual cup beforehand.
A menstrual cup is more recommended, as it is placed 100 percent inside the vagina.  
7. Don't Take Photos
Just as it's rude to stare, taking photos is something that you definitely don't want to do whilst skinny dipping. This is for a number of reasons…
One, it's invasive and should require complete consent from all parties.
Two, it may make your fellow skinny dipping friends feel shy, embarrassed and uncomfortable.
And three, social media is so rife that no one wants to run the risk of seeing their naked body online for one or other reason.
8. No Children Allowed
It's super important that there is no risk of children accidentally running into you.
If you're exposed to minors, you could face a number of heavy fines and or charges, not to mention the awful experience for them.
9. Don't Get Caught
Skinny dipping is about having a bit of fun. It's not about doing sexual acts in public, or exposing yourself to those who are unwilling.
For that reason, don't get caught…just don't! Do your research beforehand to ensure you can enjoy the activity for what it is.
10. Don't Be Shy
Easier said than done, but try your best to just enjoy the moment. Forget about the cares of the day, whether you feel your thighs are too big or your abs aren't chiselled enough, and just let go.
The most fun will be had if you can learn to love the skin you're in.
6 Top Places Around the World to go Skinny Dipping
There are tons of saucy and intriguing spots all over the world to enjoy a moment of skinny dipping.
From spa's to hotels, luxury beach resorts and waterfalls, here are five top places in the world that are perfect for skinny dipping.
1. River House, Sri Lanka
A secluded seven-acre beach resort found on the banks of the Madhu River, you'll find The River House. It's a romantic spot for couples, lovers, and more to relax and tap into the natural surroundings.
It's also a place to swim sans clothing from November to March!
2. Toshimaen Garden Spa, Japan
This 1200-acre hot spring is set inside a garden and is filled with peace and tranquility.
Loosely translated, this spa likes to call itself an "adult wonderland," and is a place to simply let go of all responsibilities…and all items of clothing.
3. Gili Lankanfushi, Maldives
Just like the luxury vacation spots you see on Instagram, Gili Lankanfushi in the Maldives is picture-perfect. They focus on quality of life, luxury, and enhancing one's sense of belonging and being.
This secluded residence allows you to skinny dip in the Indian Ocean until your heart's content.
4. Lady Falls, Wales
Made more popular by the author, Kate Rew in her book, Wild Swim, Lady Falls in Wales is among one of the most intriguing places to go skinny dipping in Britain.
This public spot is frequented by hikers and other passerby, so be sure to be discreet while on your adventure.
5. Maslin Beach, South Australia
Maslin Beach was the first in Australia to be declared a legal nudist beach in 1975. Today, it's a prime location to feel the water on your bare skin.
Also, if you fancy a bit of lighthearted fun, they have annual events and competitions, such as who has the best bum!
6. The Island of Rab, Croatia
On the island of Rab, nudist beaches are well-integrated. And while there are allocated beaches for those who wish to be naked and those who do not, they don't create barriers in the form of enclosed nudist resorts.
Each beach has enough distance between them to be natural and comfortable, making it a great experience, whichever you choose.
So, if you fancy visiting, these are five great nudist beaches in Rab, Croatia:
Kandalora:

one of the oldest nudist beaches in the world. Here, you'll also find a restaurant, deck chairs, parasols for rent, showers, and toilets.

Sahara:

a beautiful sandy beach. Take note however, there are no facilities here.

Stolac:

the only exclusive nudist beach in Rab, but sans facilities.

Ciganka:

is an interesting nudist beach, as the sand has been naturally-shaped in various styles, such as pyramids. It boasts emerald green water, and you can relax on the sand or on the rocks.

Pudarica:

is a beach that shows off old town views and fun after hour clubs. The sunset here is gorgeous, and there are a few facilities too.
Do you suddenly feel the urge to rip off your clothes and go skinny dipping? Do it! Be bold, adventurous, and live your best life!