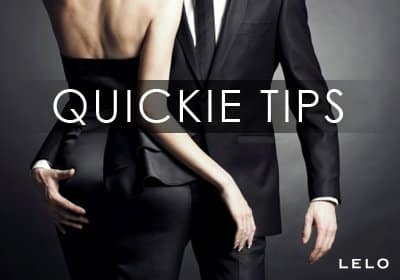 People have never been in such a hurry and for this reason among others, the art of the quickie remains alive and well. We think that's great news, because quickies are great and will always hold a special place in our hearts. So when you decide to make it a quickie and take your sexual adventures outside the bedroom, just make sure you don't get caught!
Traffic Jam
Everybody hates being stuck in an gridlocked traffic jam, but we can't think of a better way to cope than by making the most of this alone time together.
While the two of you going at it full throttle may be a little disturbing for the family in the SUV next to you, perhaps a little cheeky oral play or using a discreet, travel-ready vibe stashed away in a handbag will discreetly while away the hours before you're ready to hit the road again.
Laundro-Mate
This is probably only possible in one of those all-night, self-service laundromats, and the smaller the hour the better. Use the natural vibrations of your advantage, and if you're really feeling crazy, you could even do some laundry at the same time!
Elevator Shaft
We think having a quickie in an elevator is pretty hardcore, as the opportunity requires a lot of pre-planning and doesn't present itself very often. It will however, certainly give you both a lift. It's also very risky, which in itself should make it more fun.
You'll probably need a building with at least 50 stories (or just an exceptionally trundlesome elevator) unless you're willing to use the emergency stop button which we don't recommend for fear of raising alarm.
Bus Ride
There's something about traveling by bus that really gets us hot under the collar. Is it the excitement of going somewhere new, is it the vibrations, or is it simply the paralyzing boredom of being on a bus?
Whichever it is, if you find yourselves on a suitably sparsely packed Greyhound and you suddenly feel the urge to go the distance, hey, there are five back seats for a reason right? What did you think they were for, sitting on?
Cinema Swing
Try as you might, he just doesn't care what Kate Hudson is talking about and she's seen Jason Statham break one too many faces, thank you very much. While it might not be the most original idea, a quickie at the movies will certainly lighten things up if your on-screen attention is starting to wander.
Pick a – preferably rubbish – movie that's been out for a while so the theater will be quiet, settle yourselves in a secluded area, the back corner for example, and reel off the good times.
Wedding Tackle
Love is in the air, the champagne is flowing and the two of you have experienced a sudden rush of blood to the head.
Weddings – and wedding parties in particular – are actually a relatively safe bet for a quickie as they are often held in swanky hotels, offer plenty of opportunity for privacy and most of the people around are too drunk to care.
Ball Park Figures
A video of a couple having sex at a stadium – in this case Yankee Stadium – went viral recently and while it's perhaps more exhibitionism than anything else, having sex in one of the world's most iconic sporting arenas and only getting caught by cameras does set the imagination racing.
Fitting Room
Never again will men complain about having to spend their Saturdays following their women around all the sales on the high street. A girl in the guy's section is a lot less creepy than vice versa so discreetly head to the male fitting rooms of any clothes store that takes your fancy and uncover the joys of having your own personal shopper.