What do we really know about male ejaculation? Sure, we've heard the expression, "I'm gonna come!" in movies and TV shows, and perhaps we've even heard it in real life (or something more like "Are you on the pill?" before they let rip. 
We also know that there's sperm in semen… you know, the stuff that gets a woman pregnant? 
Side note: Did you know that it's normal for there to be around 15 million or more sperm per ml of semen? Crazy!
Besides all of the above however, there is so much more to know about male ejaculation. So whether you're a semen-producing human or not, the below info may just be news to you… very interesting news at that.
Let's start with the basics…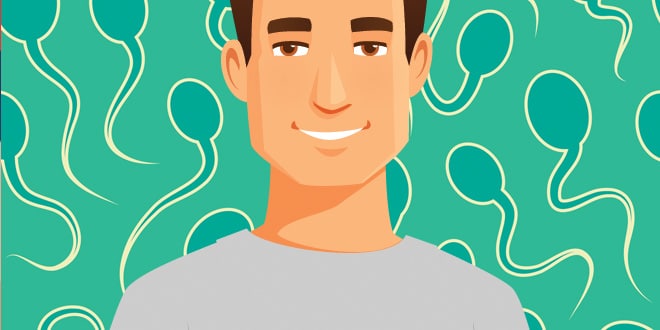 What is Male Ejaculation?
When a man is sexually aroused, all of his organs (sexual and non-sexual) work together to release semen. 
It all begins at the vas deferens (a duct that allows sperm to travel from the testes to the urethra). And for those who did not know, urine is too passed through the vas deferens before it's expelled. 
During this time, glands called seminal vesicles release fluid that mixes with sperm. Together, this mixture of fluid is what we call semen. 
When a man is ready to ejaculate, the brain sends signals to the spinal cord which passes the message along to the muscles at the base of the penis. When ejaculation takes place, these muscles contract every 0.8 seconds, as semen is then released from the penis. 
Is Ejaculation and Climax the Same Thing?
Climax happens at the peak of sexual excitement, and is a feeling experienced throughout the entire body. 
When a man ejaculates, he releases semen (as described above).
Climax and ejaculation often happen at the same time, but this is not always so. Some men are able to climax without ejaculating (called a 'dry orgasm'). Because of this, ejaculation and climax is not the same thing.
What's Up with Pre-Ejaculate Fluid, aka Pre-Cum?
Before semen is released from the penis, a small amount of pre-ejaculation is usually released. This is actually a drop or two of alkaline fluid from two glands that sit beneath the prostate (the Cowper's glands).
The thing about pre-ejaculate fluid is that there is a chance it could contain live sperm, and thus could cause pregnancy, and or spread STI's and HIV. For that reason, you may want to reconsider the 'pull out' method as a form of birth control. 
How Often Should a Male Ejaculate?
Of course we're kind of biased when it comes to ejaculation and climax (we'd love to see people enjoying these experiences on a daily, if not more, basis). But for men, it's actually important for their overall health to ejaculate fairly often. Good news, wouldn't you say?
To further make your day, frequent ejaculation has been said to reduce the risk of prostate cancer. A 2016 study, that took place over two decades, noticed that men who ejaculated 21 times or more per month were at the lowest risk of prostate cancer. There's also no evidence to prove that frequent masturbation is harmful.
And for those who may be worried that ejaculating often may lead to less sperm and a decreased chance of getting a woman pregnant, a 2015 study showed that frequent ejaculation did not cause an alarming reduction in sperm count, and didn't affect things like sperm motility. 
Side note: It's impossible to 'run out' of sperm, as around 1,500 sperm are produced every single second.
Benefits of Male Ejaculation During Sex
As if we needed more reason to do the nasty, it's been shown that when men ejaculate during sex, there are a slew of health benefits!
Sex once a week may improve the immune system

Sex increases the production of happy hormones and anti-stress hormones

Ejaculating during sex releases the hormone, prolactin, which helps a man sleep

Sex could reduce the risk of heart disease
Premature Ejaculation
Premature ejaculation (PE) happens. Surely you've had a sexual encounter that lasted what feels like a few seconds, after which you or your male partner apologises and says that this kind of thing has never happened before. That's probably a lie, because it happens to around 30 to 40 percent of men at one time or another.
PE is when a male ejaculates sooner than he or his partner would like. 
When Does Premature Ejaculation Become a Problem? 
Usually when ejaculation takes place under one minute or before sexual intercourse has even begun, on a regular basis, it's something to look into. 
What Causes Premature Ejaculation? 
A number of things. It's been found that men who have lower levels of serotonin are more likely to experience premature ejaculation. It could also happen to those who have erectile dysfunction (ED).
ED is when it is difficult for a man to achieve or maintain an erection. So when they do experience one, they try to ejaculate as quickly as they can while they're still erect.
Then there are psychological factors that could be causing premature ejaculation. Things like stress, guilt, performance anxiety, trauma, depression, and relationship problems can definitely have an impact on a man's performance. 
Remedies for Premature Ejaculation
While there isn't any formal medication to help get rid of PE, there are other things a man could consider:
When a man feels like he is about to climax, stop the stimulation for about 30 seconds

When a man feels like he is about to climax, squeeze the head of the penis to lose the erection

Antidepressants can increase levels of serotonin, and can delay ejaculation

Tramadol, a pain medication, too can delay ejaculation

Condoms

can reduce sensation

Masturbating a few hours before being intimate can delay ejaculation

Seek professional assistance
What Do Women Think About Male Ejaculation?
In a 2018 study, it was found that the time in which a man takes to ejaculate, and the amount that he ejaculates, plays a role in how heterosexual women feel and experience sexuality. 
In it, 13.1 percent of women agreed that the amount of semen that was expelled during ejaculation was a direct indication of their sexual attractiveness. 
The study also found that 22.6 percent of women experienced more intense orgasms when their male partner ejaculated during vaginal intercourse, and that 17.4 percent of women experienced a more intense orgasm after their male partner's ejacuation was of a high intensity. 
Interestingly, these same women reported having better lifelong orgasmic functioning, and better sexual satisfaction. So, if anything, this study has proven that it definitely takes two to tango! 
A final word? Men, take care of your prostate! Ejaculate 21 days a month or more… and that's an order!
Check this out: Sex Toys Designed for Men