The IDA™ Experience
I think we can all agree that making love and sharing intimacy with those closest to us is a satisfying experience – but what if those pleasure could be even more fantastic? And what if those more fantastic pleasures could be felt equally between both partners? Sounds pretty good, right?
These are the questions we had in mind when designing IDA™, our newest Pleasure Object that is the world's first-ever massager to not only combine rotations and vibrations, but also to offer enhanced sensual pleasures equally between both partners. A tall order, we know, but after taking a few minutes to learn the ins and outs of LELO's latest, you'll see that increasing sensations is so much better when they're shared.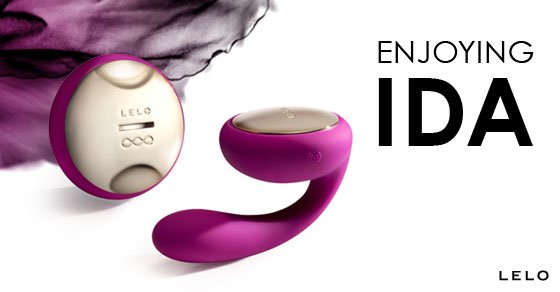 So what is it, exactly?
Glad you asked. Right away, you'll notice the design is very unique among sex toys; this is because IDA™ has been designed from the ground up as a totally new pleasure sharing device that promises even more pleasing sensations for him and her during lovemaking.
IDA™ for Him
The thin, elongated portion of IDA™ is worn within the vagina during lovemaking, where it moves in a circular motion while leaving enough room for him to slide comfortably inside. Depending on the position, the rotations and vibrations create incredibly unique sensations as they make contact with the shaft and base of his penis.  Additionally, the tighter fit of him and IDA™ together brings the man to intense climax without the need for rigorous thrusting. It's an entirely new way to share an intense and satisfying orgasm.
IDA™ for Her
The widened disc-shaped portion of IDA™ houses a best-in-class powerful motor that rests against the clitoris, while the larger surface area makes its suitable for a wider range of body types. The rotations meanwhile provide thrilling pressure on the G-spot when worn during lovemaking, particularly pleasurable with the woman on top or during doggy style. As a foreplay device, IDA™ moves around inside and out for totally unique feelings of pleasure unlike any you've felt before.
Sounds great! How do I get started?
Couples' massagers by definition take a little time getting used to; different body types and different rhythms change the experience from person to person, but the rewards pay back the efforts time and time again. As an all-new pleasure concept, every couple is going to have to take time to explore the potential it offers, so the simple tips below should ensure that IDA™ lives up to expectations.
1) Take some time to familiarize yourself with wearing and controlling it with the wireless remote. Discover which vibration pattern and strength may suit you best, so you're not confused on how to control the massager in the heat of the moment. Exploring the features together can build anticipation and could be the best precursor to more conventional foreplay you've ever had.
2) When you're ready to incorporate IDA™ into partner play, take it slow. Don't simply jump in to your normal sexual routine, but feel your way into the new experience. Use IDA™ to tease and entice, and adjust the positioning of IDA™ as he enters to make sure you are comfortable to enjoy the pleasures it offers.
3) In positions where he is in control of the pace and strength of thrusting, he should be mindful to proceed slowly, and let you both share the pleasure more fully. A more relaxed pace will better allow you both to feel the rotations and vibrations as they add a unique twist to your lovemaking.
4) With your partner, consult part one and part two of the IDA™ Lover's Guide to get some sensual inspiration and ideas on how you both want to share all those soon to be discovered pleasures in store for both of you.


---
Donna is a Volonté contributor and freelancer who lives in San Francisco with her understanding husband and not-so-understanding teenage sons. Her work has been published in The Journal of Sexology and she is currently writing a book on love languages.