We could talk all day long about all the masturbation techniques out there. From shower head masturbation, mutual/partnered masturbation, to switching up the masturbation positions and locations, there is plenty to keep you from being bored with solo sex. 
But there is one, in particular, we haven't talked about yet. And that is masturbation through panties. You might be wondering why you would want to masturbate with a barrier when things feel so much better without anything separating you and your intimate areas, but masturbating through panties can be highly fun and arousing. 
If you Google the term "masturbation through panties," you'll find a huge selection of porn videos showcasing people with vulva masturbating through panties or having their partner masturbate them. This goes to show that the demand for this masturbation technique is real! 
So, why not try it at home yourself and see if you like it? 
Masturbation Through Panties: Your New Favorite Masturbation Technique
Why Is Masturbation Through Panties Worth a Shot?
Apart from being a very popular porn theme, masturbation through panties can be very exciting for a few reasons: 
Novelty
You know that the best way to spice things up with your partner is to try something new in the bedroom, whether it would be a toy, a sex position, a different location, or even a different time of the day to have sex. 
Novelty is crucial for partnered sex to keep it fun and exciting, research shows that couples who introduce more sexual novelty into their long-term relationships have higher sex and relationship satisfaction. 
The same goes for solo sex – introducing new ways to masturbate makes it much more fun and satisfying. That's why trying out different sex toys can be so exhilarating – you are adding novelty to your solo sex life. 
Masturbation through panties is another great way to introduce novelty into your solo sex routine. Because it's something new and unusual, and not a masturbation technique you try often (if ever!), it will make your next solo session so much more pleasurable and thrilling. 
Added Sensations 
Masturbating through panties offers new, different types of sensations. How? Well, the material of your panties can add extra stimulation to your vulva and clitoris. And the material your panties are made from (cotton, silk, lace, linen, etc.) can greatly affect how the stimulation will feel. 
So, you might even want to try masturbating with different panties to see which ones you like the most. 
Avoid Overstimulation
Some people with vulva have an extremely sensitive clitoris that makes it super easy to get overstimulated from direct stimulation. Also, the sensitivity of the vulva, clitoris, and vagina (as well as other parts of the body) depends on the hormonal cycles, which might make you more sensitive on some days of the month than others.
Masturbating through panties can be an awesome masturbation technique for people with high sensitivity. By touching your intimate areas through panties, you still get to experience all the feel-good sensations without the worry of getting overstimulated. 
Tips and Techniques 
Okay, now it's time to get to the juicy part and discuss the best panty masturbation techniques and tips for you to try. It's all about finding what works for you, so don't be afraid to take things you like and leave ones you don't. 
Choose the Underwear 
As we briefly mentioned before, the material of your underwear matters when it comes to masturbation through panties. Softer underwear like silk, satin, and cotton will give a different type of sensation compared to a rougher material like lace. 
So, spend some time in your underwear drawer, feeling out the materials of your panties to choose the one that feels the best.
Set the Mood 
The more you're aroused for your solo sex sessions, the better things will feel. So, before you get to masturbating, spend some time setting the mood and turning yourself on. 
The way you do it can be anything from watching ethical porn, reading erotic literature, listening to erotica stories, watching videos/pictures your partner sent you, or simply using your imagination to conjure sexual fantasies. 
You might also want to turn off the sound on your phone and lock the door if you don't live alone, to ensure that nobody disturbs your quality solo time. 
If you worry about the sounds, especially if you'll be using sex toys, the best way to deal with that is to put on some music. This way, any sounds you make won't draw attention. 
Mix Things Up 
Touching your vulva and clitoris will feel different through panties then it feels when you touch it directly. So, try different types of stimulation techniques (even ones you might not have liked in the past!) and see how they feel through panties. 
Here are a few vulva and clitoris stimulation techniques you want to consider: 
Up and down:

move one or two fingers directly over the clitoris up and down for more targeted stimulation. Or, take the four fingers, lay them flat against your vulva, and rub them up and down.

Side to side:

sometimes up and down stimulation can feel too much. Try moving your fingers sideways from right to left, massaging your clitoris this way.

Circles:

place one or two fingers over the clitoris and draw circles for more targeted stimulation. Or, lay the four fingers flat over the vulva and rub them in larger circles. 

Grinding:

place the palm of your hand over the clitoris and rub your hand against the area while you also move your hips, grinding against your palm. 
Invite Your Partner to Watch 
Why not sprinkle in a tiny bit of voyeurism/exhibitionism? Having your partner watch you masturbate can be very arousing to you and to your partner. 
So, if you want to, invite your partner to watch you masturbate. You can do it live, or even over a video call if you feel comfortable and safe. You might even ask your partner to tell you how they want you to touch yourself, or invite them to give you a helping hand.
Toy Suggestions 
Toys are 100% not mandatory for successful masturbation through panties sessions. You can have completely satisfactory and fun solo sex without any party favors. 
However, adding your favorite sex toys into the mix can definitely elevate the experience. So, if you want to add toys, here are our recommendations:
Magic Wand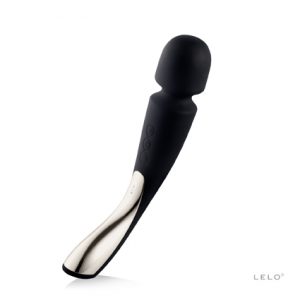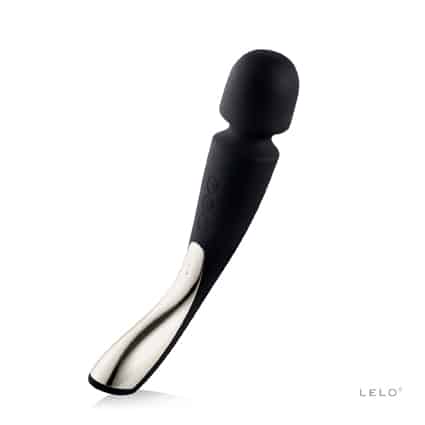 All wand vibrators are known for their intense sensations and many people with vulva use them because they know it'll be a surefire way to a toe-curling orgasm. 
Because they are often so powerful, they are perfect for masturbation through panties and some people with vulvas can only use wand vibes with panties or any other type of barrier between the toy and their vulva. 
You might want to consider something like Smart Wand. It comes in two sizes – large and medium – and offers ten different intensity levels so that everyone can find a setting that makes them see stars. 
Clit Vibes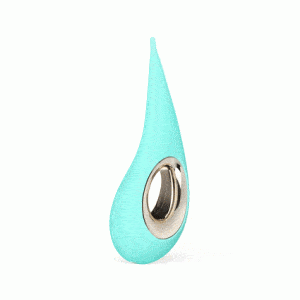 Mixing up finger stimulation with a clitoral vibe can be a fun way to take your masturbation through panties to the next level. Fingers offer the softer, slower type of stimulation while with the clitoral vibe, you can go as hard and wild as you want. 
Something like DOT might be just the perfect sex toy to use through panties. Because it has a very pointed end that's designed for super precise, targeted stimulation, you can target your clitoris through panties rather than the general vulva area. 
Internal Vibes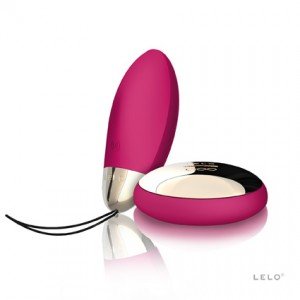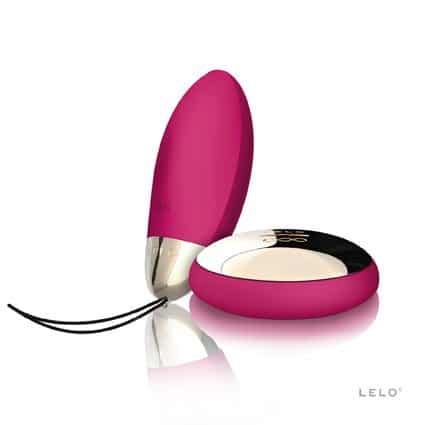 Let's not forget blended orgasms! They're intense, sweet, and very much possible even during masturbation through panties. You can slip the panties to the side and use your favorite G-spot vibe for penetration while your fingers focus on the external stimulation through the panties. 
LYLA 2 is actually a perfect toy for this because it's designed for remote couple play. You can insert the bullet vibrator inside for intense G-spot stimulation, and have the remote in one of your hands, playing around with different intensity levels.