The following is an anonymous account of the experiences of an anonymous LELO fan and the first time they tried using LELO HEX condoms.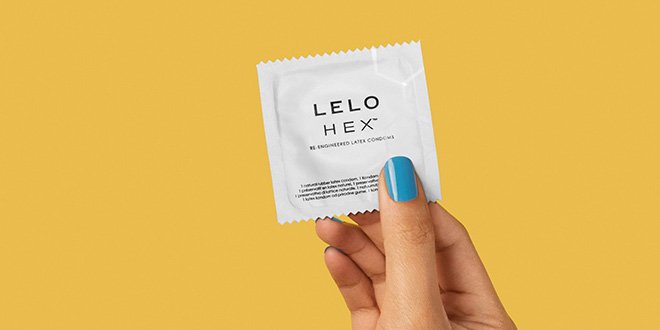 My girlfriend and I have been together for 7 years, and have always relied on the pull out method with — knock wood — no scares yet.
This is for a number of reasons, including her being very, very lactose intolerant (most birth control pills contain lactose) and not keen on getting an IUD. As for me, I just have never liked wearing condoms all that much.
I know, I know: that's an asshole reason for eschewing all birth control, however I need to mention that we've never fought about this. When I suggested very early on that I just get a vasectomy, she scoffed it off as too drastic. We're fine with our tried and true pull-out method.
It recently occurred to me though that, for nearly a decade, I have been coming the exact same way, time and again, with my hand. Even during lovemaking I have essentially been masturbating my way to the finish line every time so she suggested we try something different.
We decided to try using a condom, simply as a way to switch it up, allowing me to finish inside of her like we did when we first started dating. Just a lark maybe, but I planned and researched this like a woman plans and researches for her wedding day, which brought me to LELO's HEX Condoms.
Reviewers purported that this was the condom that would help me avoid all the old hang-ups I always had about wearing them; fumbling, confusion, and just plain feeling like my dick is wearing a ski mask — the biggest of all of my reservations about condoms.
One thing I'd always hated about condoms was the loss of momentum, when you've got to detach yourself from the moment to actually put the thing on and together acknowledge 'yup, we're doing this'. And with HEX, your momentum still gets halted but they've gone and streamlined it somewhat with some very nice outer packaging made of what feels like a thick paper, not the slippery potato-chip-bag material you might be used to.
Another thoughtful touch that we both noticed was that it's unmistakable which way HEX goes on. The reservoir tip is protruding outward to let you know which way it will roll on to your penis, and you can do it with your eyes closed or the lights off.
So how did it feel? Here goes:
Make no mistake, when you're wearing a HEX, you're wearing a condom. I don't care how thin you can go, it will always feel like you're wearing one and it's always going to affect your sensitivity, but this is where HEX surprised me most. Sure my sensations felt dulled somewhat, but it still felt good.
To be honest, I approached getting back in to condoms, and HEX specifically, as a 'make the best of a bad situation' type thing. But it seems that good condom engineering — as well as low expectations, gotta say — resulted in a very positive experience for both of us. It was great to be able to finish inside my girlfriend and feel that kind of release again.
[related_article id="14015″ float="right" size="full" target="_blank"]