Similar to cooking, dancing or sewing, learning how to give a sensual massage is one of those life skills that always comes in handy, not least because it's a great way to add an extra dimension to bedroom play.
And just like riding a bicycle, you'll never forget once your learning is done, so take note and see what a romantic massage can do for your love life and personal wellbeing!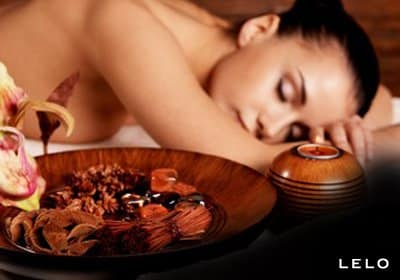 Stress Relief
Stress is one of the biggest barriers to a healthy sex life – not to mention a major libido killer — which is a shame because there's a lot to get stressed about these days. So finding time to iron out that knot in your neck or that bump in your back can not only leave you walking a little taller, it could also put an extra spring back in your step, if you catch our drift.
Romantic Recommendation; a Flickering Touch Massage Candle is perfect for setting a sensual scene, with soothing aromas filling the room as the melted wax turns into luxurious massage oil. Trust us; it's as good as it sounds!
Tactile communication
We all know that talking is pretty important when keeping a relationship on the straight and narrow, but what is perhaps lesser understood is the concept of communicating through touch.
While some people are certainly less touchy-feely than others, the human body naturally craves it, and there is a wonderfully complicated series of pressure points and sweet spots just waiting to be discovered. It's All About You
We're big advocates of personal massages, which can also help melt the stresses and strains away, working wonders on your sex drive.
So when you're enjoying some solitary down time, don't forget that self-pleasure has amazing benefits for when you're with a partner. Masturbation manually or with sex toys allows you to better know your own body and how it reacts to touch, so play often!
Flexibility
We now know more than ever before about the best ways to care for and fine tune our bodies, and the art of massage has been an aspect of healthcare culture spanning many eras. The Ancient Egyptians were at it as early as 5,000 years ago, likewise the Chinese, the Romans, the Greeks and the Mesopotamians — essentially a who's who of your 7th grade history book.
Massaging helps to increase flexibility and strengthen muscle, and it doesn't take long before increased flexibility gives way to a whole catalog of more interesting ideas for intimacy!
[related_article id="12354″ size="full" target="_blank"]