As a reader of this blog and someone who is obviously curious about the world of sex beyond just what is presented to them in mass media, you're no doubt familiar with Shibari, even if you don't know it by name.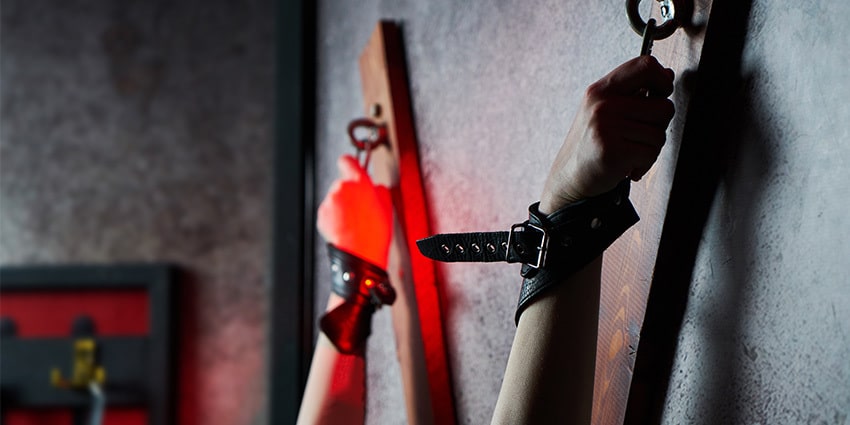 Shibari, which simply enough means 'tying' in Japanese, is a contemporary style of rope bondage from Japan.
It can be considered a BDSM practise due to the nature of restraint. However, while BDSM is a very wide umbrella under which handcuffs, ties, floggers and chains are used to provide punishment and withhold pleasure, Shibari is more specifically and solely about the trust between the tie-er and tie-ee, and the unique aesthetics that can be created. 
This isn't to say that BDSM isn't about trust (because it very much is), but that Shibari is much, much more focused on the aesthetics and trust at the exclusion of all of the other things that BDSM is all about, including pleasure, for many rope bondage practitioners.
To some, Shibari is a way of meditation and relaxation, combining a psychological connection between partners that results in an aesthetic result–what other couples' activity can you think of that can do that?
'Why should me and my partner try Japanese Rope Bondage?'
Aside from what we said before about Shibari being an exercise in trust to an artistic end, it provides a deepening of trust between the bounder and boundee.
Rather than trapping or punishing your partner as in a BDSM scenario, Japanese rope bondage is more about surrendering oneself willingly to their partner. If the boundee fully gives in to being controlled by their partner, then the bounder has a deep responsibility to their partner to keep them from harm and ensure the process of this binding goes smoothly.
'Where do we start with Shibari?'
Tying up a partner in the way ascribed by kinbaku will take some thought and practice, not to mention a bit of reading and resource-checking. As with everything else, there are a number of great resources on YouTube to get you started with examples of the different knots and techniques for every level–this is all assuming of course that you've bought yourself a couple of coils of Shibari rope.
With your first length of Japanese rope bondage rope, you can start out by trying different knots and binding braids on your own wrists and ankles. This won't only teach you how to do the different knots, but also give you an idea for how tight you will want to make them when it comes time to bind your partner.
But before you do all of that, you'll have needed to establish a very good level of communication beyond the basic advice of establishing a safe word like 'firetruck!' when things perhaps feel too weird to continue. Before tying your partner up, there is a conversation that has to be had in which you can get a better sense of their tells and indicators.
Questions like "How will I know if you're enjoying yourself?" and "how about if you're not enjoying yourself?" are the places to start. Even though the answers to these might be evident, seeing as how you know the person you'll be tying up, asking and having to put it into words will clarify things even more for both parties.
'What does a Shibari session look like?'
This is where you and your partner can interpret as you like. For instance, the boundee can choose to be nude or clothed–in which case, tights and a workout top will be fine. Avoid clothing that is too loose as it can buckle or bind under knots and cause pinching or otherwise interfere with the tying. 
You can also choose (via a discussion beforehand) what kind of attitude or vibe you are bringing to the Shibari scene. Will it be one of menace, or one of caring? There is a big difference between a session that evokes naughtiness compared to one evoking tenderness, so this is worthwhile to figure out beforehand.
Finally, as the bounder needs to see what it is they're doing, the room should be a well-lit one. However, the person being tied up can wear a blindfold if they so choose to amp up their sensations. The bounder and boundee can also agree whether to remove the blindfold at the end of tying to reveal the intricate ropework.
One of the most fun things of all though will be the untying process–be sure to take your time with it, as it can feel really good to have the ropes slide off and loosen, freeing the tied-up partner.