While exactly who created Steak and Blow Job day remains unclear, it's been kicking around the internet for about as long as we've had memes. Taking place on March 14th, it's meant to be a sort of 'Valentine's Day for Men' when their partners make them a steak and give them head rather than the traditional flowers and chocolate on February 14th.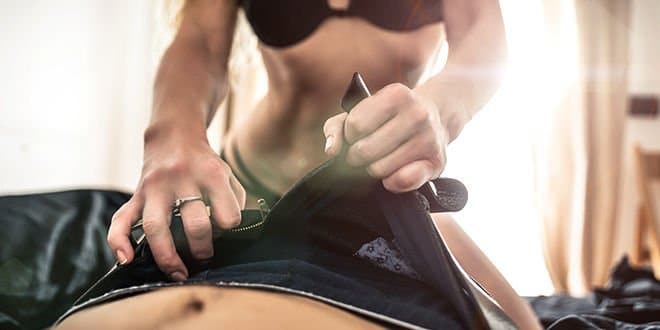 The official Steak and BJ Day website (officialsteakandblowjobday.com) has also become charitable. They state that "Steaks are awesome. BJs are incredible. Breast cancer sucks major balls." We can't say we disagree. You can help fight this disease that affects 1.7 million women a year by inviting your partner to donate and partake in Steak and BJ Day.
Is it Gross and Sexist or Great and Silly?
This can be a pretty divisive topic, for fairly obvious reasons. Essentially insisting someone perform a sex act and make you steak plays into some not always great gender stereotypes, not to mention it reinforces the idea that straight men don't enjoy romance, caring only for meat and blowies.
On the other hand, while your relationship might not specifically be like this, there is a popular idea that Valentine's Day is largely about doing something special for the woman in a (straight) relationship. The pressure to spend a lot of money and plan something extremely thoughtful based on intimate knowledge of their partner, with knowing that it is going to be discussed in depth among her friends and/or flaunted on social media can be a lot, and certainly can affect a guy's enjoyment of V-Day.
In the end, it really comes down to your relationship – there are probably just as many men who think it's juvenile as women, and yet other couples who think any excuse to get grilling and gifting to celebrate their love (and oral sex) is fun and harmless. Even if your partner isn't the type to get bent out of shape about Valentine's being more about flowers and romantic movies that he isn't actually into, he might very well appreciate you taking the day to tell him he's appreciated, even if it is tongue-in-cheek. Or, whatever-body-part-in-cheek.
Okay, How Do My Partner and I Celebrate?
Unsurprisingly to everyone, we have written a lot more on how to give a good blow job than how to make a good steak, so we'll stay in our lane – though we do warn that over-marinating is an easy trap to fall into! With a vinegar (or other acid-based) mix, 8 hours is sufficient, as any more can make your meat mushy, which is definitely not ideal on Steak and Blow Job Day.
For Act II of the evening, we would suggest that you do exactly what might have been missing from your other couple-centric holiday celebrations – namely, cater to what your partner actually wants. We are fans of just straight up asking what sex position they prefer for fellatio, but part of being thoughtful is to actually have an idea of what they like beforehand. That means doing your research!
You can also spice it up with bondage or role play (or, even both). Try adding your favorite handheld massager like LILY 2 for some extra sensation or a couples ring like TOR 2 (flipped with the vibrating part over the testicles) so you can go hands free!
Whether it be a fun way to donate to a good cause while causing some good feelings, an excuse to try something new, or a simple occasion to appreciate your partner, there aren't a ton of reasons to skimp out on this year's Steak and Blowjob day.
Check this out: An Oral History: Blowjobs Through the Ages