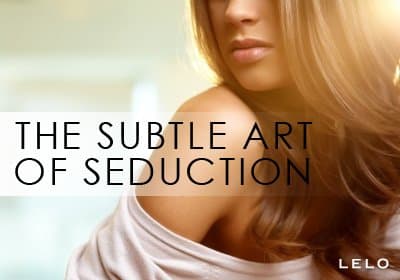 Seduction: the word itself fills the mind's eye with images of lust, sensuality and secrecy and when we read about the subject, the voice in our heads speaks in lowered, husky tones. There is something undeniably naughty, risqué and sexy about the whole thing.
Yet, similar to pleasure and pain, seduction and sex are actually two opposites that sit surprisingly close together. Sex being the culmination of desire, seduction the creation of it.
Seduction comes in different forms and because no two people are the same, what seduces one person may not necessarily work on another. There are also different stages, not just all the kinky stuff that goes on during foreplay. Seduction begins long before the two of you enter the bedroom and can start from the moment you first make eye contact.
Mastering the art of flirting is a great way to get things moving, as how are you going to seduce someone if you can't even crack up a decent conversation? Men and women have different go-to topics when it comes to this but, generally speaking, both appreciate confidence and courtesy over arrogance and attitude.
Taking things slow is also part of the process, as patiently denying someone something they crave or making them desire something they didn't previously want, helps whip up a lusty frenzy of expectation.
Properly executing the art of seduction can also be the key to turning casual dating into a serious relationship, if that is what you decide to go for. An important part of keeping your partner, or hopefully soon-to-be partner interested is the constant anticipation of what is to come in the future.
And it is this anticipation that is at the very heart of all things seductive. The anticipation of getting to know each other as you work your seductive magic, the anticipation of exploring all the sensual ways you please and tease each other as you spice things up in the bedroom and the kind of anticipation that will leave the two of you on the edge of your senses, never quite sure of what will come next.
If seduction be the food of love, tease on!