The following erotic story involves a couple with a shared birthday celebrating with a brand new sensation. Read on…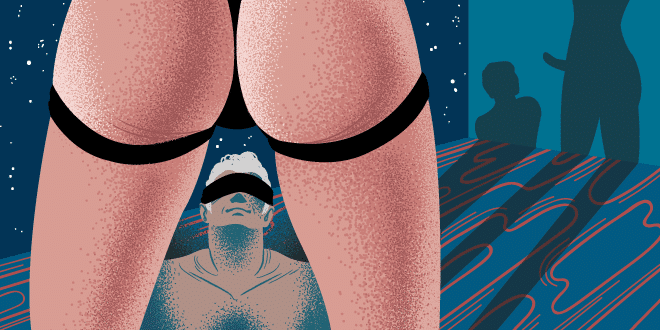 Tim and Katy shared the same birthday. For the four years they'd been married, they had alternated between who gets spoilt each year, each taking turns, instead of sharing the day. This year they both turned 30 and, since Katy had arranged a threesome for Tim last year, it was Katy's turn to be spoiled this year.
At nearly 6'3, Tim was an imposing presence, and he loomed large over Katy's 5'2 frame. That was part of what attracted her to him when they first met. They had instant chemistry, and it never looked like fading. They both exuded sexuality.
Katy had plans for this particular birthday. Although their sex life was generally equal, Tim was generally in charge in the bedroom. She was more sensual and better at rationalizing the sex they had, but he was bigger and stronger and more selfish. He liked to be pleased, and she liked to please him. In that sense, and only in that sense, their relationship was conventional. In every other respect, they were progressive, liberal, and adventurous.
Today, she wanted to turn that on its head, and she was going to be in charge. She was going to fuck Tim like he fucked her.
That evening, Tim took her to dinner, a quiet restaurant with unobtrusive waiting staff. He had bought jewelry: a necklace, bracelet and matching earrings, and perfume. She oohed and aahed, but it wasn't glitter and glamour she wanted. Her mind was already on going home and getting started.
After they'd eaten, they got a taxi home. Katy was quiet the whole way back, chewing her lip in nervous anticipation.
Once home, Tim pushed to find out what exactly Katy wanted for her real treat.
"So, what's next?" he asked, sat next to her on the sofa.
"Well, I know it's breaking protocol, but I got something for you," Katy replied.
"But tonight's supposed to be about you," said Tim.
"Believe me, it will be," she said cryptically.
Katy disappeared into another room and returned with a box, wrapped in pink paper and topped with a ribbon bow. She handed it to Tim.
"Awww you shouldn't have," he said, while beginning to unwrap the box.
He opened it and stared down into it. Inside was a twisted mess of what looked like straps. Tim looked at Katy, confused, and then back into the box. He fished it out, and it had an unexpected weight. He lifted it out and recognized what it was. The tangled straps were attached to a panel. From that panel hung a long, slender dildo.
It curved slightly upwards and had ridges and bulges along its beautiful length. Tim turned it from side to side in front of his face.
"You… you want me to wear this?" he asked.
"No Tim," she replied with a glint in her eye. "I'm going to wear it. And you're going to take it and beg for more."
"…wow. This is new," said Tim, beginning to break into a wicked smile.
"You'll address me as Sir. Now undress me," Katy said, coldly.
She stood in front of him and he lifted her blue satin dress up her body, revealing the lace tops of her black stockings, and up over her hips, where he discovered she had not been wearing panties all night. He ran the dress up her torso and eventually over her head, until she stood before him naked but for stockings and heels. Tim sighed with lust.
"Now," Katy continued, "strap on my cock."
"Yes Sir."
Tim straightened out the straps and wrapped them around her hips, and tucked the final one between her thighs. Her body flinched at the pleasurable contact, and Tim took a second to test if she was wet. She was. He licked his finger.
"Greedy boy. Are you hungry?" Katy demanded.
"Yes Sir," replied Tim.
"Then eat this."
With that, Katy pushed Tim to his knees and slipped the dildo between his lips, gripping the base with one hand and his hair with the other, as he had done to her a thousand times. She pushed it deep into his mouth and he struggled and gagged very slightly. She swung her hips back and forth obscenely, and moaned loudly.
"Does it taste good?" she asked, cocking her head to one side mockingly.
"Mm-hmm," came the muffled reply.
She stopped thrusting and instead used her hand to move his head back and forth instead, smiling, now with his hands obediently behind his back.
"Stand up and strip for me," said Katy.
"Slowly, Sir?" Tim asked innocently.
"Yes, let me watch you, make it sexy for me."
Katy flopped down onto the couch and began to stroke her dildo while Tim began unbuttoning, stripping, and then blushing with self-consciousness. His awkwardness only turned Katy on me as she sat with her legs wide apart, for fist sliding up and down her appendage, still wet with his saliva. She barked orders, telling him to turn around, to slow down, to speed up, until he was naked, his erection twitching in front of him.
"Good. Wasn't that fun?" Katy asked sarcastically.
"Yes Sir," he said. It was almost automatic by this point.
His hand reached down for his cock.
"NOT YET," snapped Katy. "I'll tell you when you can touch."
Tim grimaced, disappointed.
"Kneel on the couch. On all fours," Katy said.
Tim obeyed, kneeling down and leaning forward, his chin resting on the back of the couch. While he positioned himself, Katy quietly added lube to the dildo she was wearing, sliding it up and down until the entire length was slick. Tim knew what was coming. He wanted it, but not as much as Katy.
"That's a good boy," Katy soothed, stroking his back as she positioned herself behind him. "Is this what you want?"
"Yes Sir."
"Beg."
"Please Sir, please fuck me Sir. I need it. I need you inside me."
Katy gripped the base of her dildo and guided the tip between his cheeks. And slowly, slowly, she teased herself into him. Tim was not used to the sensation and his body resisted at first. Katy was patient, but firm, listening closely to his breathing, allowing him to relax.
With every exhale she pushed in a little further. And with every push, the grooved base of the dildo's harness rubbed a little more against her clit.
But soon, she had slipped inside him, and his body had acclimatized. She began to fuck him. Long, slow strokes at first, moaning with every sensation. Tim moaned louder, and louder, the curve of the long dildo pushing him in new and breathtaking ways.
Her pace quickened. Katy's eyes were closed now, her head thrown back, her hands gripping for anything and finding flesh, and hair, and squeezing whatever it was she found. She fucked him roughly, and slid a hand into the front of the harness, running her fingers over her wetness. She was close.
"Now you can touch yourself," Katy moaned, on the brink of climax.
Without hesitation he wrapped his hand around his erection and almost immediately let out a primal noise as he brought himself to orgasm, his body gripping and convulsing around Katy's dildo, and with every convulsion he squeezed harder on her.
His orgasm triggered her own, and as she watched him cum on the end of her dildo her body was wracked with pleasure, every muscle in her body tense and energized, one hand wrapped around the base of the dildo and the other on her clit.
Their orgasms subsided and they were breathless.
"Thank you Sir," panted Tim. "Thank you."
Check this out: What is Pegging? Sex Tips & Advice for your First Time Being Pegged