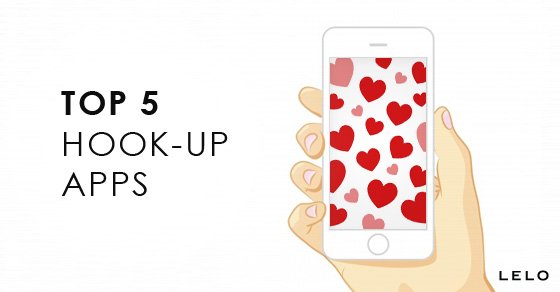 From keeping all your appointments organized and storing all your music to helping you hook up with new sexual partners (oh right – and making phone calls), they sure don't call them smart phones for nothing.
Yes you read that right; in addition to doing a mind-boggling number of things for you, your cell phone can also get you into bed with someone you've never met, or never knew wanted you too! Just like online dating, these hook up apps are rejection-free methods of viewing your current sexual landscape that keeps you in control at all times – and is enticingly instantaneous, to boot!
So when you're on your next hunt for a hook up, use the following LELO-approved apps, and go get 'em, tiger!
With over one hundred million users, the dating app Tinder is absolutely exploding in popularity, yet one of their greatest boasts is that of all the romantic interactions it has enabled, only fifty have resulted in marriage proposals.
When you find out the simple – and simply effective – way that Tinder operates, it's not hard to realize why people aren't exactly using it to find Mr. or Ms Right, but Mr. or Ms. Right Now ifyouknowwhatwemean (you do); once installed, Tinder accesses your Facebook friends list and has you rate other Tinder users you know or users in your proximity, notifying them that you're interested only if they've indicated they are also interested in you.
This is the more straightforward version of Tinder, with the intentions right in the title – the aim is to bang your friends, basically.
Like Tinder, you select people from among your friends you'd LTB (like to bang – an acronym we're hoping will catch on), and if they've done the same for you, you'll be notified. If they don't want to hook up with you, or simply don't have the app, they'll never know – ignorance is blissful and rejection-free!
Sexting, like sexing, is best when it's practiced safely; Snapchat allows you to send content to other Snapchat users that will expire ten seconds later, leaving no evidence of a sexy selfie or tawdry text.
Sure, the recipient could take a cheeky screen shot of whatever you send them, but Snapchat is cleverer than that; it will send you a notification when someone does so, which works for most people as a deterrent.
Find people in your immediate radius who are down to chat, grab a coffee, or both of those things as well as have sex with you with Blend, a proximity-reading app that pings other users when you're around – just be sure to turn it off when you're out on a date with one of your newfound Blendr buddies!
This invite-only hook-up app touts itself as the 'quick and easy way to find sex right now', and has a few more features than the average sex app.
After you find interested partners, they can ask you (and you can ask them) to share more images together to get a better feel for the person on the other end of the app. Some of the exchanges can be so steamy that you both may never even meet in real life, but it's just as well – there are millions of users to choose from!