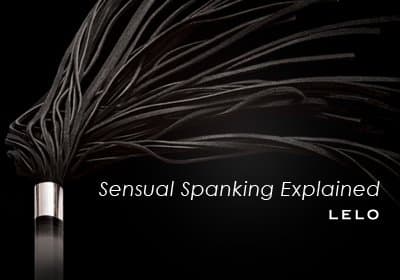 Most often used both during foreplay and when making love, the bottom line is that there are many angles and many scientific reasons why erotic spanking can, maybe even should, be incorporated into a healthy sex life.Why not try it yourself and give a whole new meaning to having your partner in the palm of your hand?
Dopa-mean
A fine line exists between the pain and pleasure sensations in the human body; indeed so fine is this line, sometimes we find it difficult to identify if something hurts, or if it actually feels great.
According to the Journal of Neuroscience, this is because the same chemical that makes us feel happy, dopamine, is also active in the body's chemical reactions that make us feel pain, which is why erotic spanking – a perfect combination of the two – is such an arousing addition to foreplay and love-making.
Cheek to Cheek?
One reason why the behind is such a perfect place for some brand spanking new fun is its close proximity to the sensitive genitals. During both sex and foreplay, a lot of blood courses through these areas and a sharp slap to the derriere actually increases blood flow and, as a result, arousal.
This, however, can not be said for the cheeks on the face; face slapping is very different from erotic spanking, and while LELO is never short of ideas to spice things up in the bedroom, we encourage you to keep it consensual, respectful, and generally awesome.
Play by the Rules…
Speaking of spicing things up, spanking is the perfect way for couples to ease themselves into the delights of beginners BDSM  and plays a prominent role for those better-versed in the lightly dark arts.
Sharing these kinds of experiences and each assuming a submissive or dominant role – alternating between the two should you so wish – helps build trust between you, while at the same time pushing fun and excitement to the extreme.
…or Leave Them Behind
Due to, shall we say, certain opinions that still surround the idea of adult spanking, and thanks in no small part to E. L. James, spanking is still considered taboo, risqué and a little bit naughty – in other words, three huge turn-ons.
Consider using a suede whip or wooden paddle to get a few cheeky juices going because science says the more aroused you are, the more heightened your pleasure (and pain) sensors will be. If you find yourself a fan of a bit of pain with your pleasure, check out our other BDSM accessories.
[related_article id="4649″ size="full" target="_blank"]