The G-spot: whether you think it's a myth or it's your preferred point of pleasure, there's one thing that we can all agree on – the search is the most fun of all! And while your most effective way to reach this sensual treasure trove is with a sex toy designed specifically for G-spot massage, there are some positions you can try with your partner that will hit the spot almost every time!
The Position: Doggy Style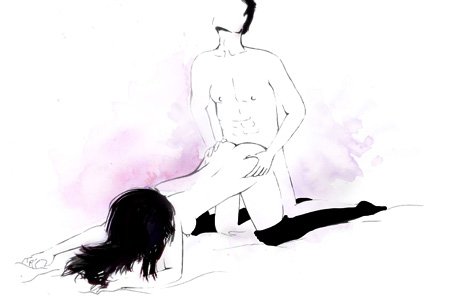 Perhaps the most reliable set up for G-spot stimulation, a rear entry promises just the right friction where it is wanted most. While on all fours, she can maximize the pressure of his penis against her G-spot by locking her elbows and keeping her arms straight while arching her back downward (essentially pushing her bellybutton towards the mattress) as much as is comfortable, while he lifts her hip upward a little and thrusts in a downward motion.
The Good: Doggy style is not only the best G-spot sex position, but the one a majority of women cite as their position for guaranteed orgasms in general.
The Not-so-good: This is also a favorite position among guys because of the increased depths he can reach, meaning he may end up finishing before you get to where you want to be.
The Position: Cowgirl

This position puts her directly in the driver's seat (or saddle, more appropriately), where she can rock back and forth to apply as much pressure as is needed for her G-spot to be satisfactorily stimulated. Her complete control when in the cowgirl position allows her to dictate not only the pace, tempo and angle of the action, but also the depth – virtually one of the only positions that allows her to do so.

Another way to enhance the cowgirl position is with a couples massager like the TIANI 3, which has both an internal component to hit the girl's G-spot, along with an external component that produces vibrations on the clitoris. These vibrations also provide a heightened sensation for men.
The Good: Aside from the control factor, cowgirl works for most women because it's a comfortable position to be in, while providing an enticing visual treat for him.
The Not-so-good: In the event that it's not one of your most-used positions, cowgirl – as well a reverse cowgirl – can be tiring.
The Position: Legs Over Shoulders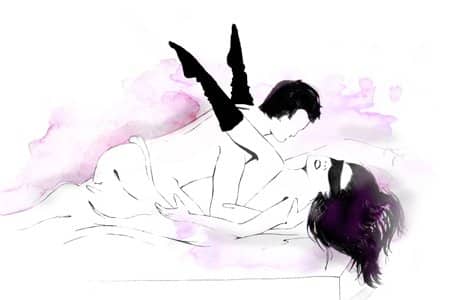 When he's on top with her feet on his chest or at his shoulders, he can either cup her buttocks or the small of her back to keep her pelvis lifted off of the mattress (a few well-placed pillows work wonders here). He can then lean into her thighs for support as well as even deeper penetration, all while hitting just the right spot.
The Good: The angle of her hips in this position guarantees that his penis will be rubbing directly against her frontal vaginal wall, stroking the G-spot with every thrust. If we want to throw in some foreplay here, you can always start with a rabbit vibe like the SORAYA 2 that stimulates her clitoris and G-spot simultaneously.
The Not-so-good: The deeper penetration can cause an overly enthusiastic partner to bump her cervix, which is not very sexy at all – proceed with care!
Conclusion
Every expedition needs a set of tools and supplies, and the search for the G-spot is certainly no different. So when you head off on your journey to even more amazing pleasures, bring along the best. LELO's latest item IDA™ can enhance pleasures for both him and her during lovemaking by combining strong vibrations externally with massaging rotations within, stimulating her clitoris and G-spot at the same time to build to a huge, satisfying blended orgasm. Both of these sensations come together to push him and her over the edge into a whole new kind of sensual experience that must be felt to be believed.
[related_article id="565″ size="full" target="_blank"]