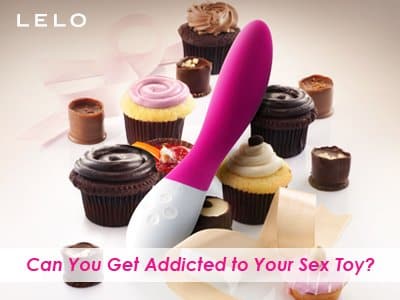 "I'd take my vibrator over a man any day!"
Well there's a sentiment we've all heard during our most boisterous, female-dominated conversations – usually when there are no guys present – But there is some truth behind it, right?
Because let's face it; while sex toys sometimes only slightly resemble the male anatomy's prized jewel, you're essentially using an item with the reach, shape and stamina that's optimized not for reproduction, but pleasure.
And that's exactly what makes sex toys so amazing; on-demand orgasms.
But can you get too much of that good, good stuff and possibly become – gasp – addicted to your sex toys?
First off – let's break down the notion of actually being addicted to one's vibe. Addiction denotes enslavement to a habit, specifically to the point where it becomes a harmfully disruptive force in your life.
What people mean when they ask about vibrator addiction then, is whether the enjoyment they get from a sex toy will be good enough – so good, in fact – that they forego any kind of shared intimacy with another person.
Sounds kind of silly when you break it down like that, right?
The alarming thing is that this notion is one that many people believe, leaving some worried that once they turn to toys, then they won't be able to find pleasure with a partner alone.
These fears are unfounded however, and there's no evidence suggesting that vibrator use can result in any kind of lifestyle inconvenience. If anything, the opposite is true. Vibrator use and masturbation improve your sex life, and as an added bonus, more orgasms are great for your health, no matter how they are achieved.
So whether you're just getting your start with sex toys or if you're a bona-fide pleasure pro, knowing how you take your pleasure is valuable wisdom you can gain through self-pleasure, and is more than worth passing on to your partner for a win-win situation of the best kind!