While more than one straight male has lamented that they're competing with 'batteries' when it comes to women they're interested in. But, in a game of orgasms, are there really any losing sides? Still, it can get in our heads, and coupled with a lack of information about masturbation in general, plenty of sex toy users can become concerned that they'll become 'addicted' to their vibrator, to the detriment of their partnered, non-battery operated sex lives. Well, we're here to bust that myth and bring all the pleasure back to masturbation that you deserve!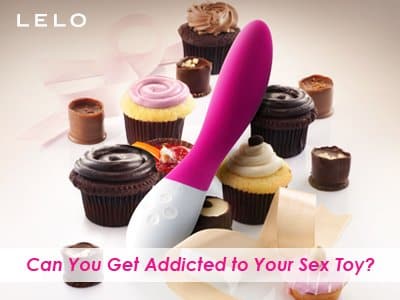 The Benefits of Sex Toys
We may be a little biased, but we believe sex toys do a lot of good for the majority of people. They can help you figure out what sort of pleasure you like, bring you on-demand orgasms, and even bring you and your partner closer together!
But can you get too much of that good, good stuff and possibly become – gasp – addicted to your sex toys?
But are Vibrators Actually Addictive?
First off – let's break down the notion of actually being addicted to one's vibe. Addiction denotes enslavement to a habit, specifically to the point where it becomes a harmfully disruptive force in your life. While it's possible to form an unhealthy obsession with anything, it's unlikely that your fondness for your favorite G-spot massager is going to get in the way of other parts of your life.
What people mean when they ask about vibrator addiction then, is whether the enjoyment they get from a sex toy will be good enough – so good, in fact – that they forego any kind of shared intimacy with another person.
Sounds kind of silly when you break it down like that, right? If anything, a vibrator and a healthy solo sex life may discourage you from having repeat, unsatisfactory sex with someone, but partnered sex is about so much more than the orgasm that may or may not come at the end.
The alarming thing is that this notion is one that many people believe, leaving some worried that once they turn to toys, then they won't be able to find pleasure with a partner alone.
What About Sex Toy Sensitivity?
These fears are unfounded however, and there's no evidence suggesting that vibrator use can result in any kind of lifestyle inconvenience or loss of sensation. If anything, the opposite is true. Vibrator use and masturbation improve your sex life, and as an added bonus, more orgasms are great for your health, no matter how they are achieved.
If you're concerned about becoming too 'used' to one kind of stimulation and finding it harder to reach orgasm without that stimulation (whether it be your vibrator, or pornography), then taking a break to exercise your other erotic muscles is always an option! And if you've only ever been able to reach orgasm with a sex toy, then why not just bring it into the bedroom with your partner?
So whether you're just getting your start with sex toys or if you're a bona-fide pleasure pro, knowing how you take your pleasure is valuable wisdom you can gain through self-pleasure, and is more than worth passing on to your partner for a win-win situation of the best kind!