When it comes to social situations, the expression, "two's company, three's a crowd" often comes with negative connotations. But when you add some kind of sexual aspect to it, well… a crowd is actually quite enticing!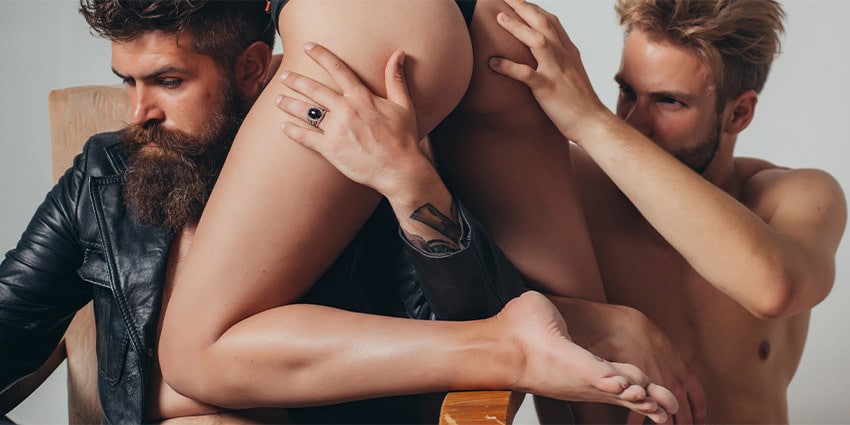 In fact, a study confirmed that 82% of men and 31% of women were interested in having a threesome (while only 13% of those studied had actually had one).
So whether you're simply curious about what MMF sex entails, or you're actively hoping to have one… here's the 411 on this type of threesome.
What is a MFF Threesome?
MMF stands for 'Male, Male, Female,' which essentially means a threesome with two men and one woman. 
There are actually two different types of play when it comes to this kind of threesome…
MMF:

There is a bisexual play between the two men

MFM:

There is no bisexual play between the two men
You see, the placement of the acronyms actually tells us what kind of activity will be had. Today, we'll be talking about the former, MMF.
Does Sexual Orientation Matter During MMF Sex?
It doesn't have to. As we know, sexuality is fluid. Having a bisexual or gay experience doesn't necessarily mean that you are either of those.
So despite the fact that two people of the same gender engage in sexual acts, these two individuals could be of any sexual orientation. Curiosity or fantasy alone is a justified reason to have some fun in a mixed-gender threesome.
And really, sexual acts don't determine one's sexual orientation—self-identification does.
On the other end of the spectrum, using the terms "male" and "female" when describing MMF sex (or any other kind of threesome) may even be outdated, as it suggests a biological binary that doesn't actually exist. 
Instead, using the terms PPV could be more apt (penis-owner, penis-owner, and vagina-owner). Then again, this could cause unrest for those who don't feel connected to their genitals. 
Basically, you can call your lustful desires and actions with three people whatever feels the most comfortable for you, be it MMF, PPV, or using the terms 'nonbinary' or 'gender fluid'. 
For today, we'll be using the acronym, MMF.
The Ins and Outs of a MMF Threesome
Just as diverse and wonderful partnered play is, the same goes for a MMF threesome. 
There really are no rules when it comes to what you 'should' or 'should not' do, but having a discussion beforehand would be the most effective way to establish boundaries, interests, limits, and other logistics.
How you experience your threesome will depend on the dynamic between all three partners. For example, if two in the threesome are romantic partners and they're bringing in a third, they may have some guidelines like: 
no kissing between non-romantic partners

getting tested before playtime

creating a

safe word

not having a sleepover with the third party
These kinds of guidelines are unique to each threesome, but we suggest always being thoughtful and kind towards your third partner, as they're still human beings with feelings and not just a novelty. 
4 MFF Sex Positions to Explore
If and when the time comes for you to indulge in a MMF threesome, there are a few common MMF sex positions that are popular for a reason.
1. Double Penetration 
One partner penetrates the female vaginally, and the other penetrates the female anally. This is, of course, only appealing to women who enjoy anal stimulation, and double penetration. 
2. The Eiffel Tower
Another common MMF sex position, the Eiffel Tower, involves the female being penetrated by one male whilst giving the other oral sex.
3. Missionary (Oral) Sex
An oldie but a goodie, two individuals have missionary-style sex while the other hovers or kneels over the woman's head so that he can receive oral sex.
4. Edge Play
Have the woman lay with her neck at the edge of the bed, almost dangling off. Then, while she is being penetrated, the other partner can stand at the edge of the bed to receive oral.
Of course, the list is seemingly endless when it comes to finding fun ways to engage in your MMF. 
If you're into exploring more ideas that involve two men being intimate, allow them to give/receive oral or penetration while the woman pegs or rims one or both during the act. It's all about creativity and doing things that feel good and arousing for all three.
When is a Threesome a Good Idea?
If you've ever been curious or aroused at the thought of a threesome and are hoping to expand your sexual horizon, great! 
A threesome can be powerfully liberating and sexy, and can offer the chance to indulge in a number of sexual fantasies such as voyeurism or exhibitionism! 
It may also give you the opportunity to be with someone of the same sex, or to have sexual encounters with someone other than your current partner.
For couples, discuss the reasons why you want to have a threesome. Is it because you're merely sexually curious, or do you feel as though something is missing in your relationship? 
It's also important to really ask yourself if either you or your partner are prone to jealousy or insecurity in your relationship.
And that's where things get tricky…
When is a Threesome a Bad Idea?
A threesome is a bad idea if you're using it as a means to "fix" a broken relationship, be it sexually or other. Rarely does this sexual act put back the pieces in an already-dysfunctional partnership. 
Having a threesome is also a bad idea if your relationship lacks good communication and trust. These are the foundations of any good partnership, and communicating your needs, lusts, and boundaries beforehand would be difficult if there is a lack of communication and trust.
Additionally, a threesome is a bad idea if one or all partners have a jealous streak or are prone to insecurity. A threesome may sound sexy in theory, but can easily go downhill when one partner feels left out during the act.
Lastly, a threesome is a bad idea if one or more partners actively do not want to have a threesome. For example, if someone obliges simply to make their partner(s) happy. Any sexual act needs consent, and when one feels coerced, this is not full consent.
Hopefully, you've gained a bit more clarity on what MMF sex is, and are able to make an informed and mature choice. Whatever you decide—stay safe, stay sexy!