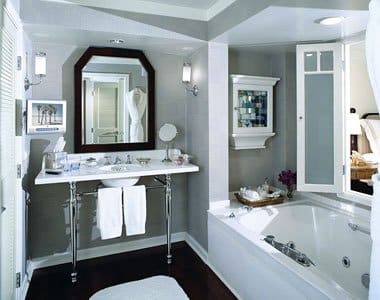 Here's a suitcase essential for every trip: your favorite travel-ready LELO Pleasure Object.
And just in case you've forgotten to take yours along on the road, trendsetting Los Angeles boutique brands RONROBINSON & Fred Segal have got you covered – at world-famous luxury hotel Shutters on the Beach in Santa Monica, Los Angeles.
For a special summer-only collaboration, RONROBINSON & Fred Segal have handpicked the most stylish and desirable travel, bath and relaxation accessories to be offered in Shutters' legendary Bath and Beach Chest, an exclusive collection of luxury goods intended to accentuate the hotel's signature experience of comfortable and casual elegance.
Presented on the top shelf of the upcoming summer edition of the Bath & Beach Chest is our very own NEA in stunning matte white. Celebrities and discerning travelers from around the globe stopping by Shutter's need only reach into the cabinet above the hot-tub bath (pictured here) for the final touch on their indulgently relaxing stay.
Until our other favorite luxury hotels follow suit, keep in mind that we've got an entire selection of discreet, handheld Pleasure Objects that are perfect for packing and traveling—so just plan in advance!
Check out the RONROBINSON LELO collection here.