There are more than a handful of articles on Volonté regarding different aspects of BDSM. But before you start reading about whips and chains, perhaps a little crash course is in order?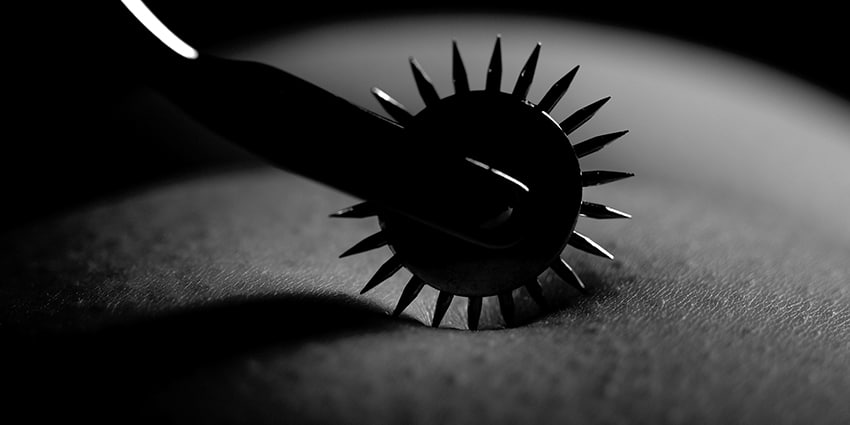 You know, for those who don't really understand everything that it entails, and who are curious about the meaning of BDSM in all of its glory.
And actually, BDSM is merely an umbrella term for a slew of different sexual and psychological practices. Thus, to say that someone enjoys BDSM is quite a vague statement. 
So, let's get acquainted with what BDSM means in the realm of pain and pleasure, and the various ways that BDSM enthusiasts enjoy it!
What's the Meaning of BDSM?
BDSM stands for Bondage, Discipline, Sadism, and Masochism. For further clarification:
Bondage:

When one partner is restricted in movement using props such as rope or handcuffs

Discipline:

When one partner exerts control over a submissive partner after agreed-upon rules, rewards, and punishments have been discussed

Sadism:

Pleasure felt when one inflicts physical or emotional pain on another

Masochism:

Pleasure felt when one receives physical or emotional pain from another
Within these four subcategories, there are so many different, delicious, exciting, sometimes nerve wracking, and intense activities that can be experienced. It all depends on your specific taste, and ultimately, what you desire or fancy. 
But, of course, it takes two to tango, so finding a partner that's like-minded, trustworthy, and respectful is key when it comes to enjoying BDSM practices.
B is for Bondage
In the realm of bondage, the joys are seemingly limitless. There are so many ways to bind and be bound, so how bondage is enjoyed and experienced changes from one couple to the next.
Bondage is a form of sex play that can include using:
Gags

Cages (such as chastity belts or cock cages)

Anal hooks

Shackles or Chains

Tape

Slings

Clit Clamps

Arm Binders

St. Andrew's Crosses
Basically, anything that can restrain a person's freedom of movement will be considered bondage. 
For newbies, using things such as (furry) handcuffs or a blindfold is an excellent starting point. And there are tons of bondage starter kits available at reasonable prices, giving you the chance to taste the world of bondage with a partner to see how you like it.
D is for Discipline
A person who identifies as a dominant is someone who takes on a leadership role, and consensually controls and disciplines a submissive partner. In this way, a dominant/submissive (dom/sub) relationship can form. 
For reference, a submissive is someone who consensually gives over their rights, desires, and themselves to their dominant.
Additionally, a male dominant may be called a 'Dom' and a female dominant may be called a 'Domme' or 'Mistress'.
These kinds of relationships require unwavering trust and respect, as well as a lot of pre-negotiating to make sure that both partners are satisfied. 
And once terms have been agreed upon, a dominant will assume dominance over their submissive, either in a relationship or as a sex worker who dominates paying subs.
What's important to note is that a dominant controls a submissive as a means to better and benefit both parties. Their welfare is always at the forefront, and there's always mutual respect.
Ways in which discipline can be practiced in a BDSM relationship:
A dominant may command that a submissive not wear

underwear

in certain situations

A submissive may need to ask for permission before doing things, such as

orgasming

or using the bathroom

A dominant may reward their submissive for good behavior and punish their submissive for bad behaviour

A submissive may be required to call their dominant by a title such as Sir or Mistress
S is for Sadism 
Sadism, in the BDSM community, is something that's enjoyed by those who identify as a sadist. It's a dominant that gains sexual arousal or gratification from inflicting pain, cruelty, or humiliation on their submissive. 
In a BDSM relationship, a dominant may use some measure of pain in order to heighten sensations and excitement, which could then lead to sexual arousal. In this kind of dynamic, both the dominant and the submissive enjoy the pain inflicted, and thus it is a mutually beneficial relationship.
For reference, a sadistic dominant would be partnered with a masochistic lover or paying customer in order to fulfill both their and their submissive's needs and desires.
Ways in which sadism can be practiced in a BDSM relationship:
A sadist may enjoy using certain props and toys, such as nipple clamps, hot wax,

whips

, bondage gear, and gags on their submissive to inflict pain or discomfort 

A sadist may bite,

spank

, slap, pierce, or cut a submissive 

A sadist may verbally humiliate a submissive

A sadist may inflict cock and ball or clit torture on their submissive
M is for Masochism
A person that enjoys masochism, in the BDSM community, is called a masochist. Masochists gain sexual arousal from receiving pain and discomfort in ways such as being flogged, spanked, whipped, or caned. But there is also a mental aspect to masochism whereby one enjoys being humiliated, ridiculed, or insulted by their dominant. 
In this way, a dominant who is a sadist could pair with a submissive who is a masochist, and together they will set rules and guidelines in such a way that both are satisfied. 
However, it's super important for dominants to learn the proper way in which to use tools such as whips and canes before incorporating them in the bedroom. 
Ways in which masochism can be practiced in a BDSM relationship:
A masochist may derive pleasure from being struck with certain props and toys, like whips, canes, or floggers

A masochist may enjoy being verbally humiliated, either in private or in

public

A masochist may enjoy having their dominant use bondage items for discomfort and pain, such as blindfolds, handcuffs, spreader bars, or rope

A masochist may enjoy more intense forms of pain and discomfort, like having their breath controlled, or being humiliated with bodily fluids
Within these four realms, there are many other ways in which BDSM can be enjoyed. The list of BDSM terms, roles, and activities are extensive, so you can consider this BDSM guide an overall and basic guide to the meaning of BDSM. 
If you're intrigued, take your time to explore the world of BDSM, because there's so much more for you to discover!