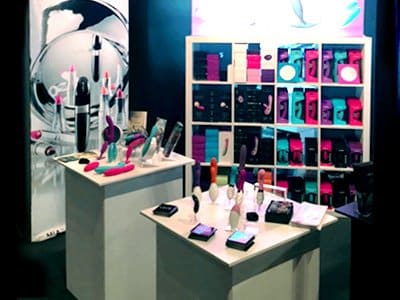 We're reaching out everywhere! Whether you're in a bustling metropolis or somewhere where the pace of life is a little more laid back, chances are LELO is not far away. Take our recent visit to Townsville in North Queensland, Australia. This small town has just played host to the region's first ever adult industry trade fair – and as always, LELO was the star of the show.
In addition to showcasing our newly upgraded SenseMotion™ Insignia™ 2 line of couples' massagers, we had a fantastic time visiting our retailers Club X as well as some of the surrounding stores. We were wowed by one in particular: the gorgeous Sweethearts, a small business that makes a big statement. As soon as you walk through the real crocodile-skin curtains of the entrance, you know this is a very special shop – that's why we were so proud to see that LELO is a central feature of the layout!
So what's the next stop on our globe-trotting itinerary? All we can say is, we're going to be clocking up some serious air miles – so watch this space.Read about our big wins at Australia's top adult industry awards show, the Eros Shine Awards.
Browse our brand new SenseMotionTM InsigniaTM 2 couples' massager range.