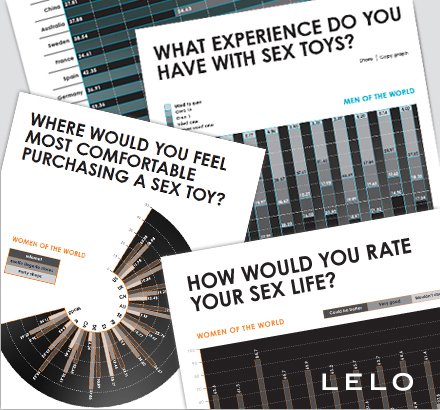 To celebrate the success of their new Pleasure Sets concepts Dare Me and Indulge Me, LELO has begun to release findings from its global survey in the form of an infographic, that indicates a profound change in the attitude of women to their sexual relationships.
With a total of 19,000 respondents, the results have been streamlined to cover feedback from 10,000 women between the ages of 25-50 from 8 different countries.
The 42-question survey was live on LELO.com for a total of 12 months and included women from the U.S, Sweden, Germany, France, Britain, Japan, Brazil and China.
In the first release of the data gathered in the survey, LELO has compiled an infographic that highlights a fundamental change in women's attitudes towards their sexual relationships. External research and sales data from LELO is also included to demonstrate a huge increase in the purchase of their luxury bedroom accessories, up to 400% for some product categories.
With details extending through the duration of sexual encounters to a new desire for sex outside of the bedroom, the findings suggest 2012 was a landmark year for couples to become more adventurous in the bedroom, and that it is women who are driving this change.
Commenting on the release of this latest information, Donna Faro, US Sales and Marketing Director said "It is great news that women are becoming more and more at ease about their sexual needs, and communicating with their partners more openly. The results point to an increase in sexual confidence, and hopefully in the very near future, every woman will feel confident enough realize their full sexual potential."
The comprehensive results of the survey will be published in a series of revelations over the first two quarters of 2013, where LELO will be launching a new global survey in its ongoing quest to inform the public on changing attitudes to sexual wellness. All further media inquiries can be directed to pr@lelo.com