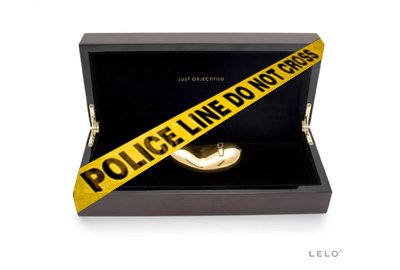 Last week a sex toy boutique in Brasília, Brazil was robbed and the shop clerk tied up as a thief made off with the 24-carat gold-plated Pleasure Object YVA, from our LUXE line. While the international media pounced on the story of a vibrator-motivated crime with much amusement, we immediately turned our attention to the serious side of the incident: how to prevent the same thing from happening again?
The brains at LELO have come up with a unique solution: GPS tracking. We're now looking into the possibility of adding a small tracker within retailer samples of our LUXE massagers – our exclusive line of personal massagers made to order in a choice of either 24-carat gold or stainless steel. In the event of a theft, customers will be able to access a mobile app that will allow them –and them only – to locate the massager. It is our hope, of course, that it is an application that no-one will ever need to use.
Carrying a retail price of $2,180 USD, it's little wonder that the YVA taken in last week's robbery was singled out by the perpetrator. We sincerely hope, however, that this proposed measure will make other would-be thieves think twice – and will prevent anyone from being put in danger for one of our products in the future.
Visit the LELO Brasil Facebook page here.