Let's be real… we come from the era of American Pie. If a dude can stick his fingers into a warm pie to replicate the feeling of fingering a woman, then heck, the world can use other kinds of fruits and vegetables to get off. 
If you have no idea what I am talking about, then you're in for quite an interesting read. If you do know I'm talking about, well, you're still in for an interesting read!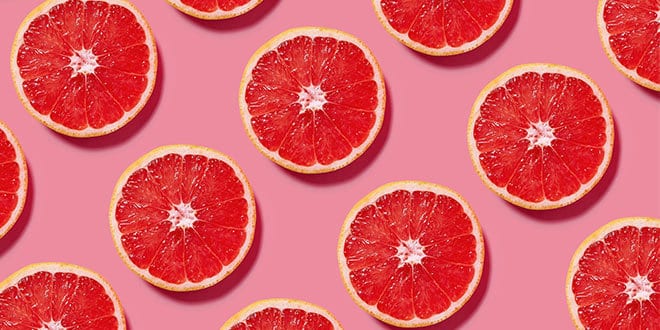 What is the Grapefruit Technique?
The Grapefruit Technique is a method that can be used during a blowjob. It's when grapefruit is split with a hole cut into it, and then used in conjunction with a regular blowjob. Why? Well, it's said to feel a damn side hotter than a regular BJ.
Where Does the Grapefruit Technique Come From?
This weird and wonderful technique comes from a woman who calls herself, Auntie Angel of Angel's Erotic Solutions. 
Angel is an intimacy expert, and the author of, Angel's Secrets. She also gives seminars across the U.S. that are booked up to three months in advance, making her quite the celeb when it comes to sexual tips and tricks. More specifically, she shares her 50 different oral techniques at these seminars, which are said to drive men crazy.
But her goal is not merely to get him off harder than he ever has before. It's about inspiring women all over the world to be self-confident, sexually aware, and empowered. With these goals in mind, she claims to "save marriages," and even cause cardiac arrest in some men during moments of lust.
So, now that Auntie Angel has been sufficiently talked up, let's take a more intimate walk into the world of the Grapefruit Technique.
How to do the Grapefruit Technique
Preparation: Grab a Room-Temperature Ruby Red Grapefruit 
Auntie Angel recommends Ruby Red, as it has a sweeter taste (yes ladies, you will be tasting it). But if you don't fancy the taste of grapefruit, you could use a large orange.
Step 1: Get Rollin'
Before cutting, roll the fruit on a hard surface for a minute or two. This is to get the juices flowing, making it appear more vagina-like. 
Step 2: Slice Em'
Slice off both navel-ends off so that the grapefruit appears in the shape of a wheel.
Step 3: Cut Em'
Then you're going to cut a penis-sized hole into the fleshy middle of the grapefruit. 
If you end up with a hole that's bigger, don't stress, you can squeeze it later to give a tighter feel. If it's too small, you can jab your finger inside slightly to make it bigger.
Step 4: Prepare Your Station
Just like preparing a meal, you're bound to make a mess. So you could either perform this technique in the bathtub or you can lay down some towels.
Step 5: Warm it Up
Now it's time for the fun! Start off by giving him a regular handjob and or blowjob to get him hard. When he's fully erect, you can start the grapefruit fun.
Step 6: Twist it, Lick it
Take your grapefruit and slip it over his penis. Start twisting it up and down while continuing to give him a blowjob (focus your mouth on the head). Allow the grapefruit to be sufficiently tight, not too loose, as to give it a 'real-feel'. 
Bonus Step: Smell It
No, not his penis… the grapefruit! Did you know that citrus is one of the best mood enhancers for women? So if your man is overcome with pleasure and finishes quickly, you both win. If he takes his time, you get to taste and smell the sweetness of grapefruit citrus, and you both win again. 
Also, the grapefruit is a fat burner, so you're actually losing weight while giving your man pleasure!
Tip: you could blindfold your guy beforehand so he has no idea what's actually going down, only to be shockingly surprised to have made love to a breakfast fruit… and enjoyed it. In fact, Auntie Angel recommends doing this.
And if you're more of a visual learner, take a peek at Auntie Angel's Grapefruit Technique video.
Kinda simple, kinda crazy… but totally worth it. I mean, it's not as crazy as Auntie Angel's Death Technique…
What is the Death Technique?
This fatally-delicious technique is when you give a man the perfect blowjob, that involves moving and twisting your whole body up and down, then manipulating the perineum with a vibrator bullet.
Why is it called the 'Death Technique'? Because Angel has confessed that some men have actually passed away whilst enjoying this kind of blowjob. My oh my!
Food + Sex
The notion and practice of using food during a sexual adventure is nothing new folks. In fact, some even have a food fetish when it comes to bedroom trysts.
And in actuality, there's a pretty close link when it comes to food and sex. Food is a rollercoaster for the senses – taste, smell, and touch – just like sex. After all, they do say that the way to a man's heart is through his stomach. 
Not only that, but food and sex are two basic needs. It's in our nature to want both. 
So when it comes to food and sexual health, there are many things you can eat that are considered an aphrodisiac (food or drink that stimulates sexual desire).
1. Spicy Food
Exceptionally spicy dishes contain capsaicin, which is the active ingredient in cayenne pepper. This ingredient causes a slew of physiological responses in the body, such as an increased heart rate and sweating, similar to that of engaging in sexual activity.
More specifically, chile peppers have the ability to release endorphins (the happy hormone), act as a natural painkiller, and raise one's body temperature. The perfect opportunity to tear off your clothes! 
2. Okra
This vegetable is rich in magnesium, which naturally causes one to feel more relaxed. It also contains iron, folate, zinc, and vitamin B, which are essential for perfect sex organ health.
3. Red Ginseng
Exceedingly popular in Chinese medicine, red ginseng has been used to treat many ailments pertaining to low libido and sexual functioning in men and women. In fact, a study found that this herb has the potential to improve erectile dysfunction in men.
4. Pistachios
These nuts have, too, been shown to help men with erectile dysfunction. In a study, men who ate 100 grams of pistachio nuts a day for three weeks experienced an increase in blood flow to the penis, and bigger erections.
5. Tribulus
This plant, which grows in dry climates, showed some interesting results when tested on rats. These rodents experienced an increase in sperm production when given a tribulus supplement. 
Also, another study in which women who took 250 mg of this supplement for 90 days, experienced increased sexual satisfaction. Tribulus also aids in higher levels of desire, lubrication, and arousal.
So, what's the moral of the story? Food and sex go hand-in-hand, essentially. Eat it, lick it, share it, use it as a prop, cut a hole into it and allow it to get you off! Whatever you fancy! Happy grapefruiting!