Every year, we peer into the swirling depths of our crystal ball to predict what the trends will be in the coming year, based on your feedback in our Global Sex Survey. Will 2015 be a return to vanilla, the year we go al fresco, or will it be all black latex and studded paddles?
Well, maybe all of them, actually. It's up to you.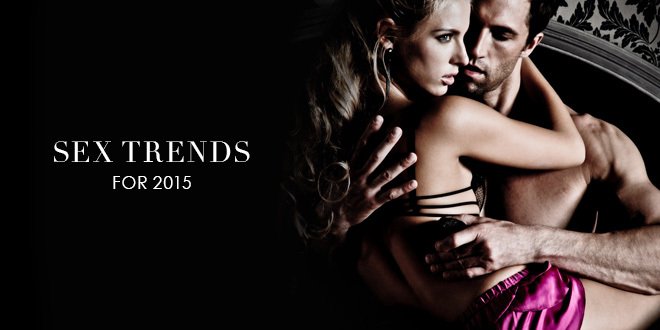 Based on our Global Survey, which we have been carrying out since 2009 (and last year saw 50,000 people from over 30 countries take part) we have seen some amazing changes take place.
83% of women say they are confident to tell their partner what they want in bed. This figure was only 67% in 2009.
74% of respondents are open about owning a sex toy. This figure was only 38% in 2011.
Almost half of all respondents would be comfortable giving a family member a sex toy. In 2011 only 7% of respondents were.
81% of respondents say they are sexually satisfied compared to less than 70% in 2014 and 2013.
It's clear to see that in the past 5 years, there has been a significant change in how we communicate about sex. The taboo, it seems, is finally dead. But what has brought all this glorious change about?
Love it or hate it, it's impossible to ignore the fact that 50 Shades of Grey has helped open up an international discussion about sex and sexual roles. When published in 2011, the 50 Shades trilogy exposed a fantasy world of BDSM to the public. Friends, even family members, were discussing this book and all the possibilities it contained.
Since then, we've seen that couples in 2015 have reached a new maturity in the expectations they have for their sex lives. Their new-found confidence in their sexuality doesn't (necessarily) come from role playing or bondage, but rather the acceptance that people finally have to openly discuss their desires and their curiosities with each other.
With the release of the 50 Shades film this Valentine's Day, we do expect to see further discussions of kink and BDSM in the media, but we also know that the audience has become more informed, and can intelligently and confidently discuss this and other topics and issues pertaining to sexuality, body ownership, and relationship roles.
So again we ask you, our customers and fans, to join the conversation. Give us your input and thoughts about everything, from the tame to the (formerly) taboo.
To take part in the in the LELO 2015 Global Sex Survey visit www.lelo.com/survey. The survey takes about 4 minutes and all respondents receive a 20% discount for LELO. You can also check out some of the 2014 results in LELO's World Cup of Sex.