Welcome to the wonderful world of threesomes… a sexual experience that is so incredibly diverse, and enjoyed by people of all walks of life. Whether you're heterosexual, homosexual, trans, male, female, poly, black, white, or blue, a threesome can be a thrilling bout of pleasure comprised of a number of different positions, erotic acts, and sensual fun.
Today, we're going to be zoning in on male-only threesomes (an mmm threesome), and boy do we have some pretty sexy things to tell you. 
By now, you're probably familiar with the term 'threesome' but if you're not…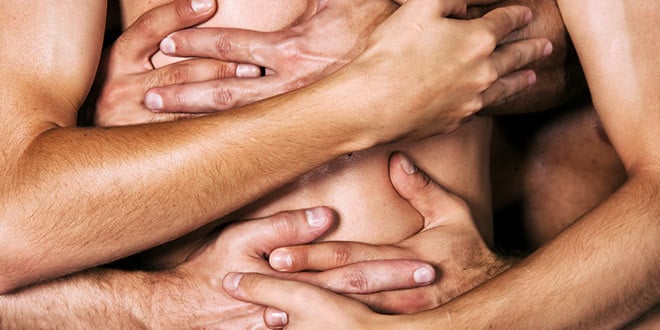 What is a Threesome?
A threesome is when three people engage in sexual acts together. It is an activity that can be done in a number of different ways, and those who participate in them can be of any sex or gender.
It could be that a couple are looking to spice up their sex life, or perhaps three people are actively in a relationship together, known as a throuple. 
Alternatively, it could just be a singleton who enjoys, or wants to experience, a party for three. No judgment, simply lust.
And in case you were unsure, there are a few differences between a threesome and group sex.
What is the Difference Between a Threesome and Group Sex?
Group sex has been defined as more than two people engaging in sexual acts. So while a threesome is technically group sex, the term is oftentimes used only when there are more than three people involved. 
An example would be that of those who participate in:
Swinging with other couples and individuals:

when couples or individuals swap sexual partners within a group.

Orgies

:

a sex party

where invitees are free to engage in uninhibited and consentual sex with whomeever they choose. 

Gang bangs:

one passive participant receives sexual stimulation from a number of different people.
So with the basics out of the way, let's dive into everything MMM threesome related.
What is a MMM Threesome?
A MMM threesome is exactly as it sounds… three men who get together and enjoy sexual acts with each other.
What makes a MMM threesome different from any other threesome? The sexual acts, culture, and execution can differ considerably. 
MMM Threesomes: The Logistics
When sex and sexual acts develop and unfold naturally, it's usually a lot more fun than when excessive planning has gone into it. But for men, hooking up sans a little conversation could be difficult. 
That is because a gay man usually refers to himself as a 'top' or a 'bottom'. A top being the one who penetrates the other (the bottom). 
So when you throw a second and third male in the mix, it would be helpful to know who you're welcoming into bed. There may be nothing worse than ending up with three tops or three bottoms.  
For that reason, whether you're already in a couple looking for a third, or you're a singleton hoping to arrange a threesome with two others, be sure to have 'the talk' beforehand to ensure maximum pleasure.
MMM Threesomes: Making it Work
Whilst engaging in a threesome, it's about knowing what each person likes and playing on that (only if you're comfortable doing so). So while one participant may prefer one sexual act, the other might not enjoy said-act whatsoever. It is about placing focus on one person at a time, and giving and receiving the pleasure that each person seeks.
There's also an opportunity for one person to sit back and watch during a threesome. In this way, it could be a voyeuristic turn on to see two men writhing in action, and (for couples) the thought of someone finding your boyfriend or partner so sexually attractive could bring about intense arousal for the viewer. 
MMM Threesomes: The Follow Up
While it does sound rather mechanical and unsexy to encourage a follow-up after a threesome, it's probably the best way for each person, as an individual or as a couple, to learn about how the experienced was received by all parties. This is especially helpful for newbies in the threesome scene, and who would like to continue doing it.
For couples, it's also a great way in which to discuss how you feel physically, emotionally, and mentally after the experience. This can then pave the way for more (and possibly better) MMM threesomes, or be a big factor in calling it a one-time thing.
Tips & Advice for Couples Wanting a MMM Threesome
Jealousy: For couples welcoming in a third, communication is key. Oftentimes, inviting someone new into a relationship in any shape or form could bring about feelings of jealousy or insecurity. Creating boundaries and outlining expectations beforehand can help ease any negative emotions. For example, kissing may only be enjoyed between the couple.
Why do you want a threesome? By asking yourself, and your partner, if you want to have a threesome, think about why you're wanting to try/do it. Is it because your sex life seems a bit stale? A threesome may not be the best option, as the lack of sex within your relationship may just be indicative of a bigger problem.
Role playing a fantasy: Do you merely enjoy the thrill of experimenting sexually? For some, the conversation alone is enough to get a couple aroused, and role playing with threesome porn on in the background may be enough to satisfy your cravings. For others, a threesome is a perfect way in which to add an extra bit of magic into your sex life.
5 Ways to Ask Your Partner for a MMM Threesome
If you're in a couple and you are interested in inviting a third for some fun, there are a few ways you can initiate the conversation and gauge whether this is something you and your partner would actually really like to try.
And while it can be daunting to talk to a partner who may not be as open-minded or interested as you are, you'll never know unless you're open to communicating about it. The following may help… 
Joint Grindr Account:

Grindr

is an app used for gay men to find… hookups mostly. And instead of having your own account, why not suggest having a joint account with your partner? In that way, there are no secrets and a simple browse may just spark up a conversation about having a threesome.

Double Penetration Intrigue:

If you've got a fantasy of receiving or engaging in

double penetration

(in this case, when two men insert their penis into one man's bottom), a threesome could be a great way in which fulfill said-fantasy. Talk with your partner about it, and take it from there.

Gay Club Sandwich: Perhaps you're in a new relationship and you're not really sure what your partner thinks about having a threesome. An evening of dancing at a gay club may just be the best way to find out. That is, by engaging in a 'sandwich'.
What is it? It's when intensely sexual non-verbal cues are dashing out at you from the cute guy dancing nearby. Slowly get closer and allow this person to enter between you and your partner. From this, you could find yourself bumping and grinding as a threesome, or it could end in a jealous dash of drama. Either way, you'll perhaps be able to get a feel for what your partner is after.
Introduce an Old Fuck Buddy:

During your single years, you may have had one or two

fuck buddies

that were exceedingly attractive and a whole lot of fun. And if said-fuck buddy happened to have commented on your new guy in a positive way, you could let them know. For example:

"You remember my old fuck buddy, Jared, right? Well, I ran into him yesterday and he told me he thinks you're cute!".

Ask Him About His Secret Kinks and Fantasies:

A great way in which to get to know a partner's sexual preferences is to merely ask in a non-judgemental way. When you're in a safe space, simply ask him if he has any

secret kinks or fantasies

. Or, ask him if there's anything that he's ever wanted to try in the bedroom. This could then possibly lead into a conversation about threesomes… 
Ready to spice up your sex life with a threesome? When all partners consent, are safe, and happy, you can be sure that tons of arousing pleasure is yet to come…