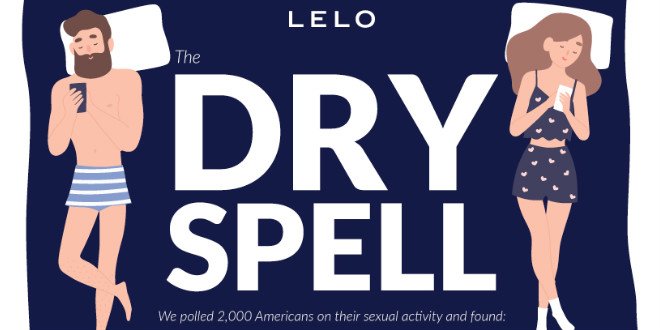 It's somewhat weird to imagine that prior to losing our prized V-card, we lived our lives merrily without craving or feeling an animal instinct to have sex.
But once the cherry has been popped, sex (or a lack thereof) has the ability to make us feel an array of emotions – some good and some, well, not-so-good.
Which is why PR research company, OnePoll, got to work on behalf of LELO, in order to understand the who, what, where and how of the dry spell, that is – a lack of sex for a certain period of time – as it is experienced today.
The research, conducted on 2,000 American adults, revealed some interesting statistics. And if you're currently in a dry spell, the results may just make you feel a little bit better about your non-existent sex life.


When is a Lack of Sex Considered a Dry Spell?
The sexually active have spoken! And the consensus is that, if you've gone five months or more without the sideways tango, you're officially in a dry spell.
Interestingly though, the current average when it comes to how long a dry spell lasts, is 11 months.
Men, on average, face a lack of sex for 10 months during a dry spell.

Women, on average, face a lack of sex for one year during a dry spell.
In this way, the average American adult experiences roughly four dry spells in their lifetime, with 28 percent currently in the midst of its full effects.
As you can imagine, this isn't exactly ideal. Especially since the majority of American adults would like to be enjoying sex three times a week to be fully satisfied.
What Are the Main Causes of a Dry Spell?
According to this new study:
32 percent of adults confessed that their dry spell was due to

relationship problems

.

31 percent of participants disclosed that their lack of sexual interest was the reason for their dry spell.

25 percent experienced a lack of sexual activity due to medical conditions.

25 percent agreed that being in a long distance relationship meant a lack of sex with their partner.
Top Three Causes of a Dry Spell, According to Gender
For men, the top three reasons for a dry spell, in order, are:
Problems in their relationship

Being preoccupied with work
For women, the top three reasons for a dry spell, in order, are:
A lack of focus when it comes to sex

Relationship troubles

Being in a long distance relationship
How Does the Average Adult Overcome a Dry Spell?
According to the study:
46 percent of adults overcome the effects by

masturbating

.

38 percent engage in more exercise.

31 percent rely on sliding into someone's DM's (46 percent when looking at only millennials).

25 percent spend more time at work.

18 percent make use of a few

late night calls to an ex

.
The study also revealed that 68 percent of participants rely on a sex toy during their dry spell to help them stay semi-sane, and 48 percent agreed that the negative effects of a dry spell are made much better with the use of a sex toy.
Check this out: Sex Toys Designed for Men or SONA The Sonic Sex Toy for Women
The Three Most Common Positive Side Effects of a Dry Spell
Before you decide that experiencing a dry spell is the end of the world, there are actually a number of positive things that can come about during this period.
The study showed that:
27 percent of participants came out of a dry spell with a

better understanding of themselves

.

26 percent spent more time with their friends and loved ones.

25 percent managed to save more money.
What's also interesting and rather enlightening, is that 15 percent admitted to being happier during a dry spell, and almost 50 percent of Americans agreed that a dry spell can actually be a beneficial experience.
The Three Most Common Negative Side Effects of a Dry Spell
Of course, there are negative side effects when it comes to a lack of sexual pleasure.
And according to the study:
41 percent of those who have experienced a dry spell agreed that loneliness was the biggest side effect.

34 percent experienced frustration.

29 percent had increased boredom and anxiety.
How Can You Embrace a Dry Spell?
For one, a dry spell gives you the time and energy to focus solely on yourself. It's a period for self-exploration – not only sexually, but also physically, emotionally and mentally.
By getting in-touch with your own body, you're figuring out what feels good and what doesn't.
Using new toys and different techniques allows you to learn more about your likes, your dislikes, and perhaps even opens up the opportunity to discover a few new fantasies.
This, in turn, makes you a more active and self-confident partner, leading to better sex.
Additionally, two in five Americans agreed that some of their best orgasms were when they were flying solo!
So while you may curse your fate when experiencing a dry spell, try to see it as a time in which to embrace the power of your body, because it always knows what you need!
Check this out: How Focusing on the Positive Can Lead to Better Sex – Dr. Madeleine Castellanos